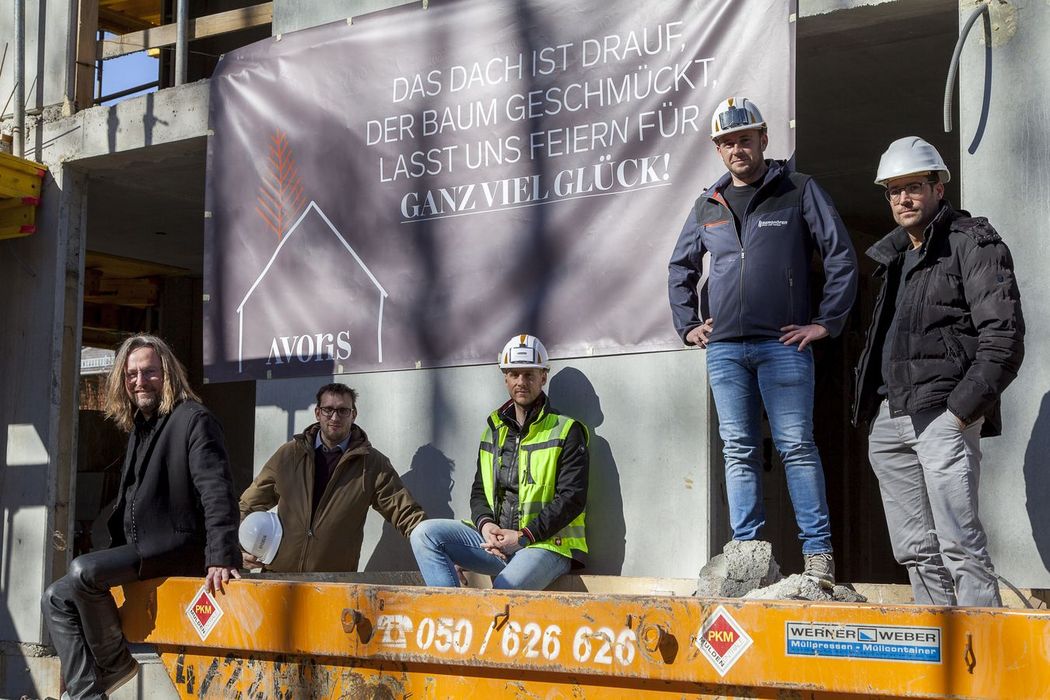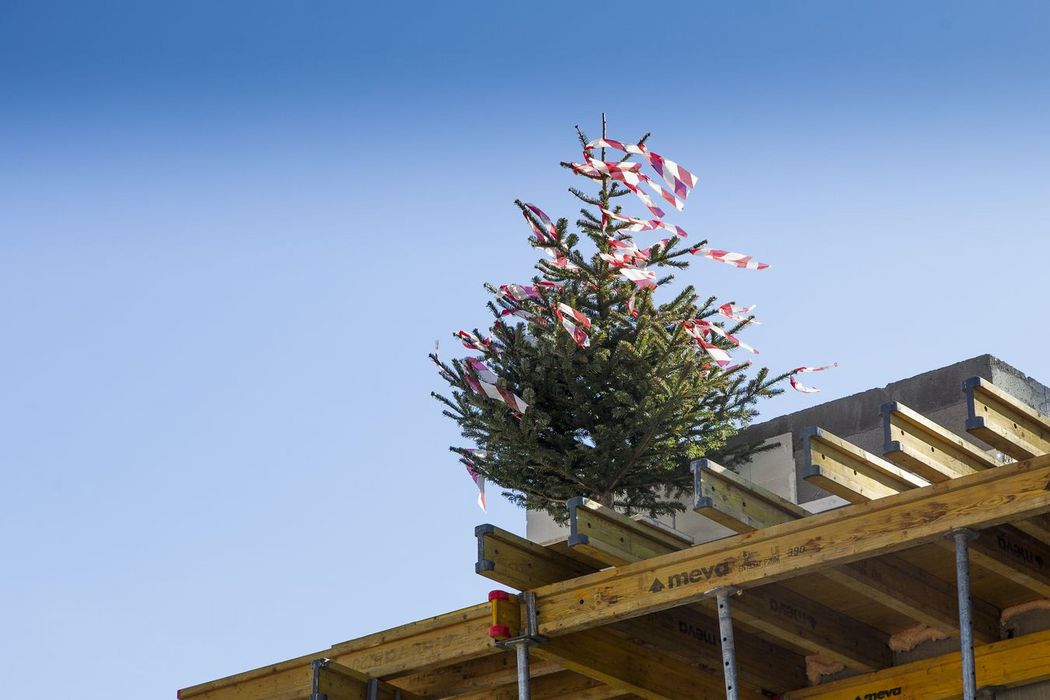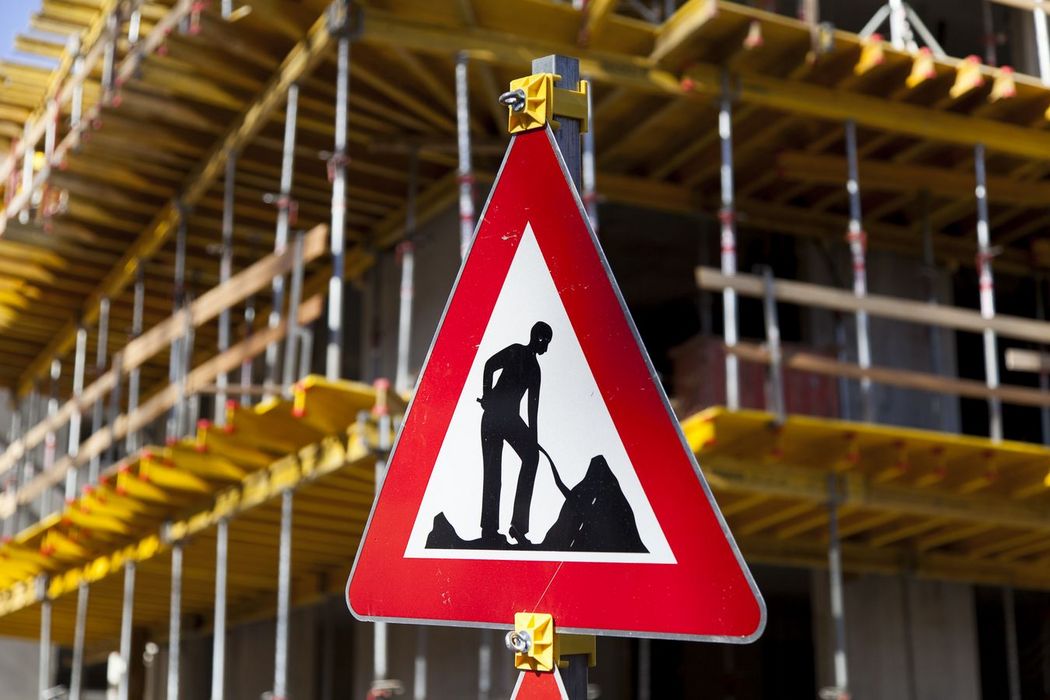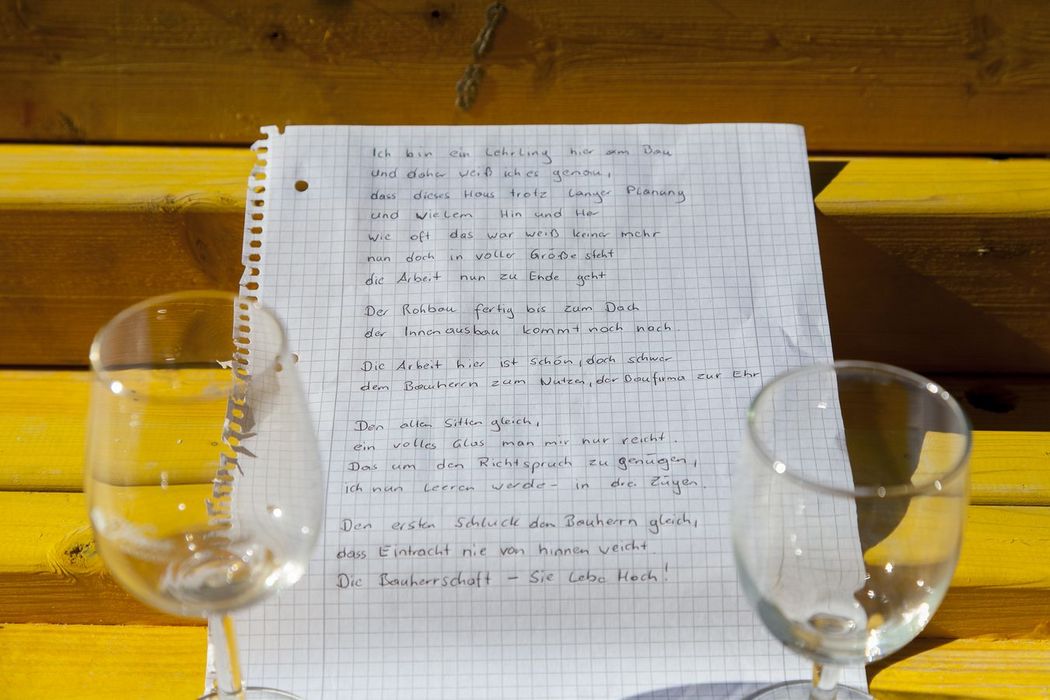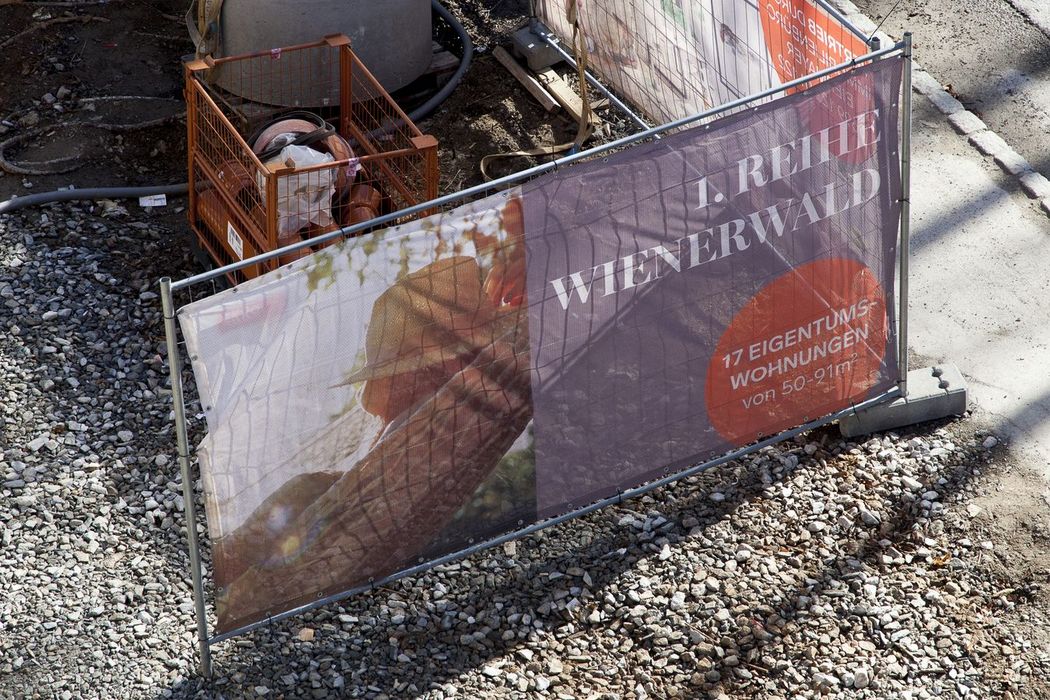 Hoping to live in a place where you can escape the stress of the big city, yet still benefit from all its advantages? The dream is getting closer: our Wienerwald View project has already been topped out!
This building in the community of Kaltenleutgeben in the south of Vienna—population 3,300—will be ready for occupancy by the spring of 2023. On 24 February 2022, the construction team, under construction manager Peter Brunner (Berghöfer Bau) and Christopher Reischer (ÖBA Bauconsult), celebrated the topping-out together with our project manager Harald Schranz and architect Robert Kernbeis (KROKUS Architektur). This construction project, which so far has gone entirely smoothly, has been especially satisfying. Even various challenges such as rocks and slate deposits in the ground, or exceptionally high groundwater levels that increased the difficulty of excavation pit drainage, were not able to slow construction progress.
THE ROOF IS UP
AT WIENERWALD VIEW!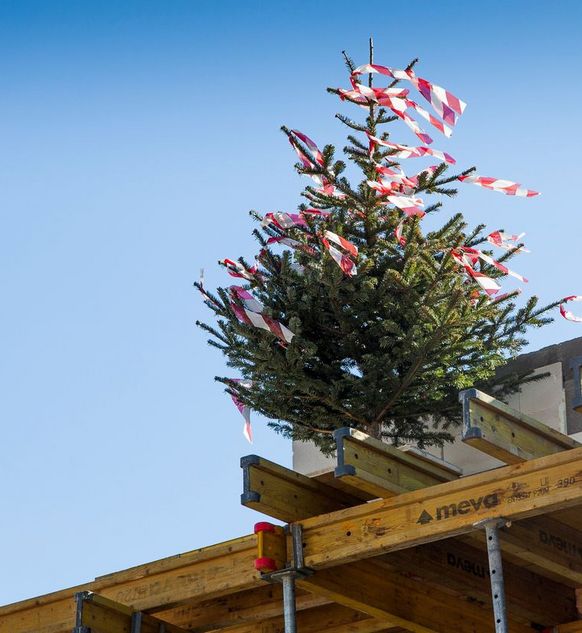 Another big milestone on the path towards living in nature right next to the city
Looking at the two three-story buildings, centrally positioned to each other, the philosophy of KROKUS Architecture is immediately recognizable: The self-confident, angular design vocabulary of the structures integrates them into the surrounding nature.
In order to make this interface with nature the center of planning, 7,200 m³ of earth were excavated, 250 tons of iron reinforcement bars installed, 2,200 m³ of concrete poured, and 300 meters of parapet railings mounted. Another 700 m² of thermally insulating composite façade with brushed plaster will go in before completion.
In just a little more than a year, the future residents of a total of 1,152 m² of living space and 1,043 m² of private outdoor space will be able to join Mark Twain and Empress Sissi in their love of Kaltenleutgeben, both of whom delighted in this area's nature during the nineteenth century. Author Twain even spent an entire summer here with his family and enthusiastically recommended the location to people he met.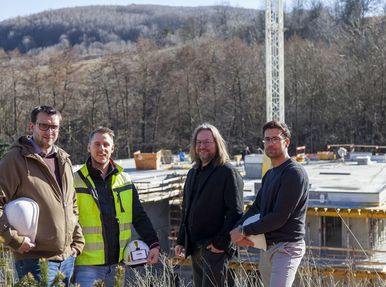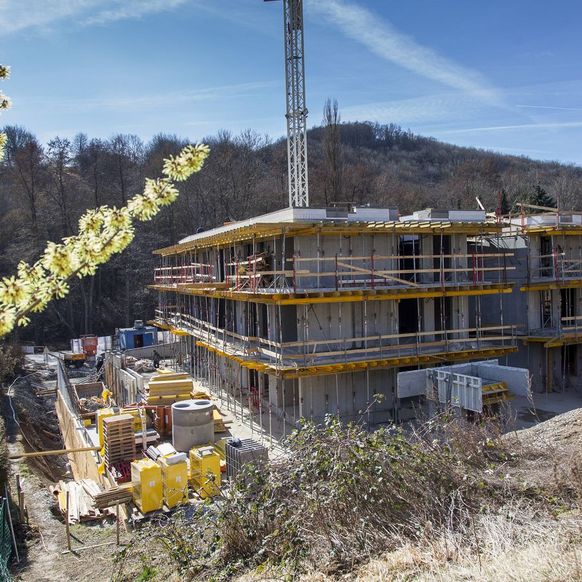 Living in comfort with outdoor open space
All apartments have triple glazed windows. The interiors are heated in winter and cooled in summer via underfloor piping. This heating/cooling system is run by a compact air-heat pump with two compressors and two separate cooling circuits, which ensures maximum efficiency by making it possible to phase the switching. All apartments offer spacious open spaces—private gardens on the ground floor, balconies and terraces on the two upper floors, and private roof gardens for those on the second floor. The structural statics even make it possible to install a private jacuzzi.
"With its balconies, terraces, and gardens, floor-to-ceiling glazing, and the overall impression of openness created by the strong connections between interior and exterior: Wienerwald View brings nature into your life everywhere possible—while at the same time stoking the desire to go out and enjoy it more," says managing director Dominik Peherstorfer. And there are countless opportunities to get out in nature. Hiking routes, jogging paths, mountain bike trails, and a cross-country ski course start just a few steps from the door, leading through beautiful pine, oak, and beech forests. Several Vienna Woods restaurant huts help round out the opportunity to enjoy nature.
Strong Infrastructure
When it comes to everyday necessities, Kaltenleutmachen has everything you need within just a short distance—from a bank, post office, and car mechanic to a supermarket, drugstore, and pharmacy to a butcher, tailor, and several doctors. Families will find a kindergarten, after-school care center, and elementary school nearby, and secondary schools are within easy reach nearby. And if the big city is calling: Bus No. 255 will take you the few stops to the Wien-Liesing train station and the U6 Siebenhirten subway.
If you are interested in one of the remaining available units, contact Jelena Pirker at ÖRAG real estate agency in Vienna. Earlier this year she took on the job of selling the apartments according to the Property Developer Contract Act (BTVG).
We here at AVORIS would like to thank everyone who helped us reach this milestone—we are already eagerly looking forward to handing over the first apartments in just under a year!