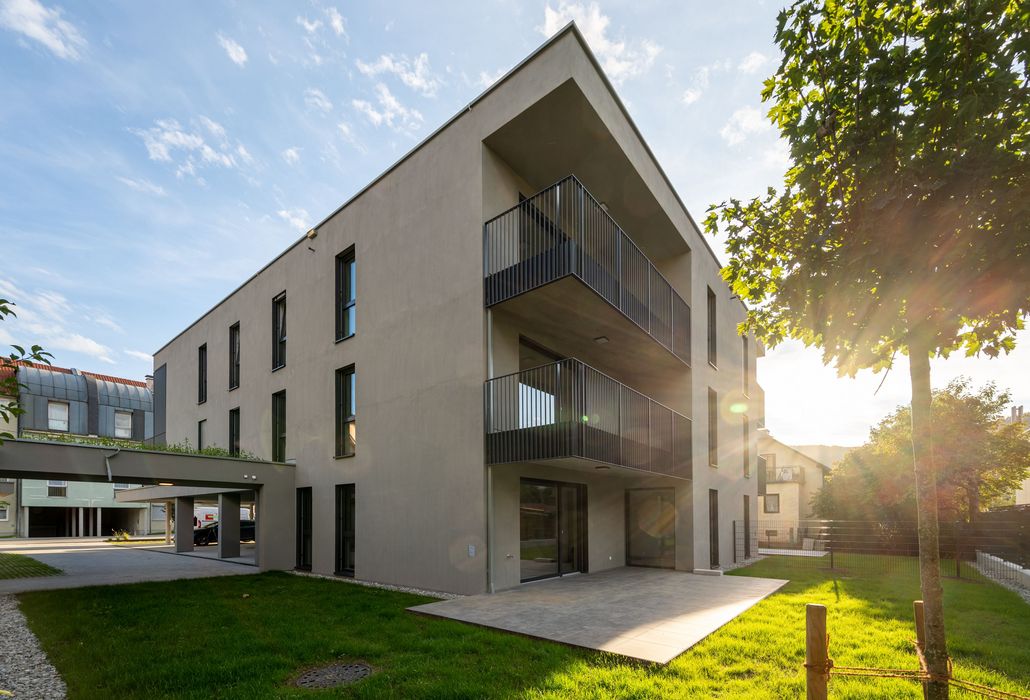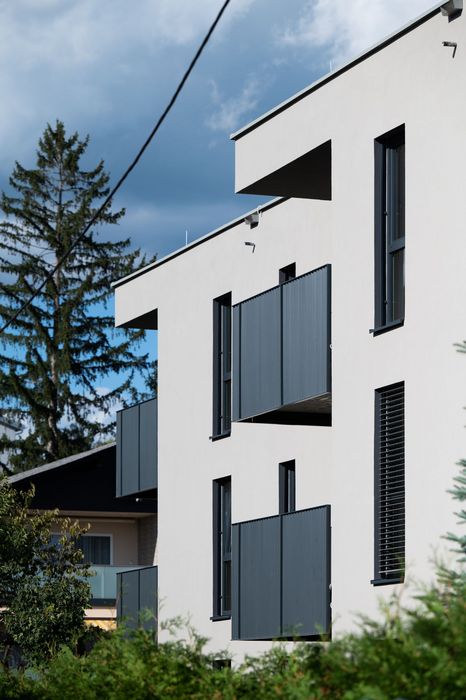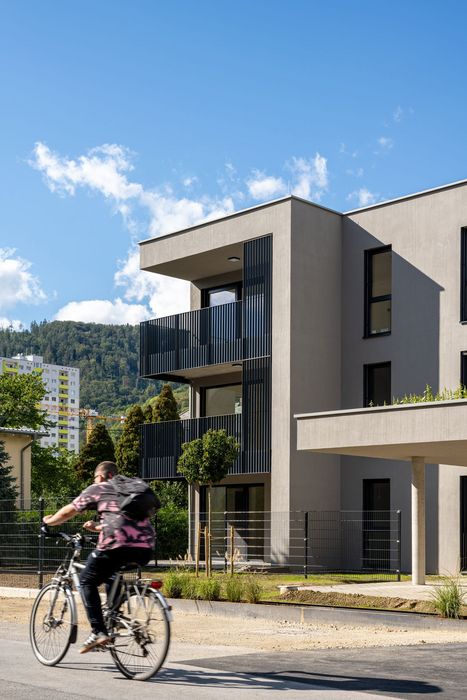 Home Story: Favorite Place on the Terrace
It was both emotional and exciting when the City. Country. Kisses. project in the Eggenberg district of Graz was transferred to its owners with many tears of joy in September 2022. The location in nature, excellent transport connections, and environmentally friendly construction quickly made the new residents fall in love with the building. One of these is Hans Peter P., who let us have a look at his new home. In a friendly conversation, we got to find out what moving was like, how he decorated his new home, and where his new favorite spot is.
Dear Hans Peter P., could you tell us a little bit about yourself?
Gladly. My name is Hans Peter P. and I live here with my wife. I've been retired for two years and wanted to restructure my life in its new phase, spatially and otherwise—basically to just do something different. Before moving, I lived in the building across the street and was thus able to follow the story of the City. Country. Kisses. project up close, step by step. I could see the property from my my garage door, and when I saw the billboard I thought I'd take a closer look at what was being offered. It was quickly clear: "That over there" was going to be our new home. And that's exactly what happened. Today, we live in a three-room apartment with a large deck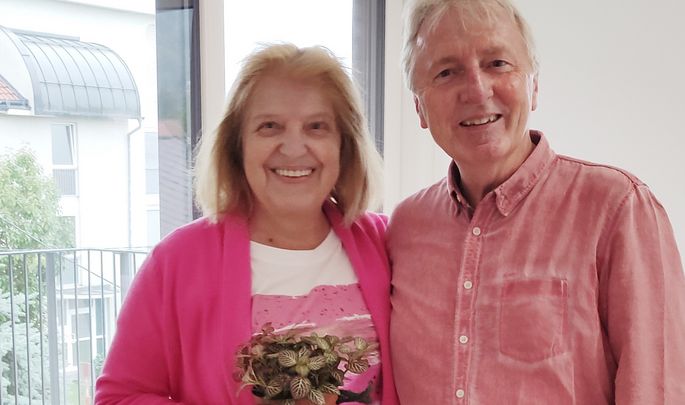 Do you remember the first night you spent in your new home? What was it like?
Oh, it was a disaster! (laughs) I was under pressure and stayed overnight in the new apartment on the very first day!
I had already sold my old place, and on the day I got the keys, the movers moved the first pieces of furniture into the new place. The first piece of furniture we took apart and put back together again was the bed. The new kitchen wasn't delivered until some time later, which meant that even though I slept in the new apartment, I still went back to the old apartment for breakfast the next day. Yeah, it was definitely chaotic.
How did you decide to decorate? How would you describe your lifestyle?
Did you bring a lot of memories with you or did you opt for all new furniture?
I would describe our living style as modern yet somewhat conservative. Nothing crazy. Some of the furniture here is new and some things we took with us, like the bedroom set. Of course, we brought plenty of memorabilia with us, although we definitely siezed the opportunity to get rid of things when we moved. Everything we hadn't needed for years went into a big pile. It was very liberating.
Did you live in "box chaos" for a long time or settle in quickly?
I'd say it was the fairly typical chaos of moving. Thousands of boxes and packages were everywhere. All three rooms were filled with boxes at first. The kitchen people came later than we had agreed and didn't have everything to install it right away; some things were missing and had to be delivered later. But that's all just part of a move and didn't stop us from settling in pretty quickly.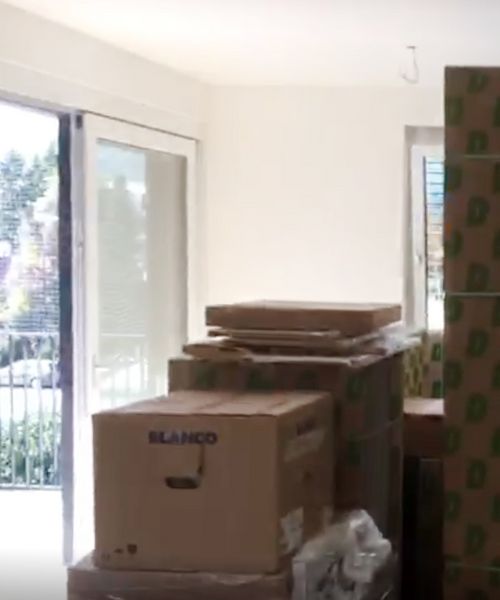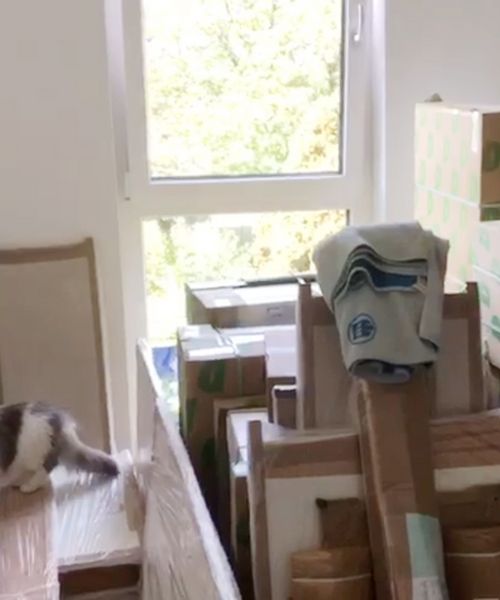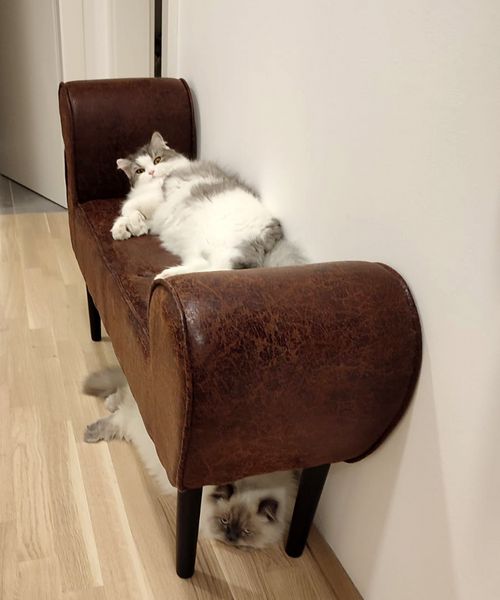 Does it already feel like home?
For me it was like flipping a switch. I moved in and it was my new home—and I love it. The only thing is that now and then my old address slips out by accident. But that's all. We're very comfortable here!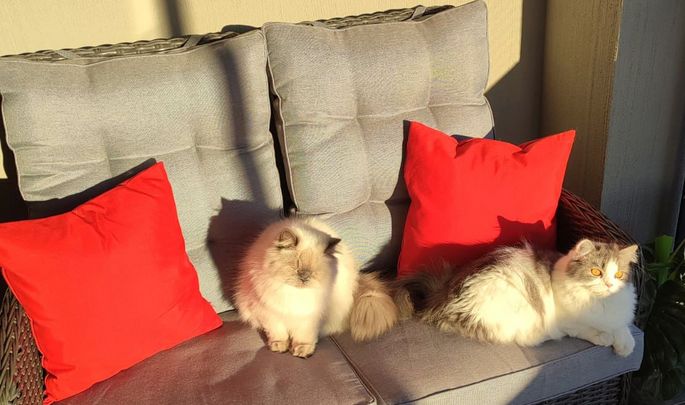 Do you have a favorite spot? And why is it your favorite?
Definitely out on the deck! The sun shines there all day when the weather is nice and we enjoy spending time there—it really is our new favorite place. We didn't have a deck or balcony at our old place. It's a totally different way of life. And our cats love it, too.

What is your favorite piece of furniture?
I don't really have a favorite—a bunch of our furniture is new and still has to "grow" into being a favorite.
Did you have a housewarming party? Or will you?
Oh, we haven't had one yet. Of course, we've had friends over for dinner, and we will have a real party as well.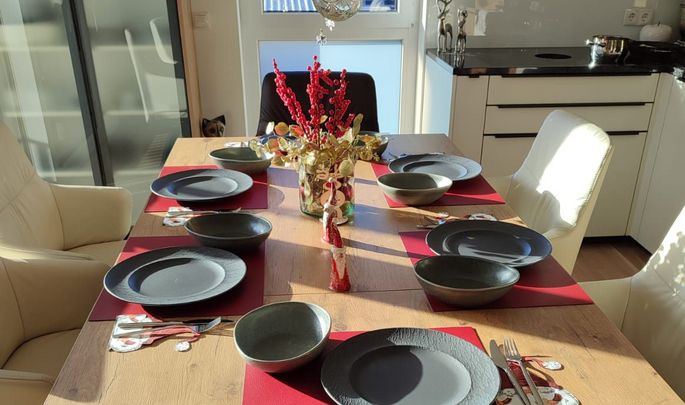 What do your friends, acquaintances, and relatives say about your new home? Do you remember any one reaction in particular?
Everyone likes it a lot. Although that doesn't really matter much to us, since the only important thing is that we love it ourselves. And we do! It's a very sunny apartment, which is something I like.

How was your first Christmas in the new apartment?
Very nice! And of course we put our Christmas tree on our favorite spot—the deck.
Are you a neat freak or is creative chaos more your thing?
Neat freak.

Vintage or design lover?
I would say a mix. We have things that are old, like our picture frames that are 150 years old. And other things are quite designed, like the modern art in the living room. Basically, my style can be described as conservative.

Colorful or more reserved?
Definitely reserved.

Are you here to stay?
Without a doubt!
We at AVORIS are very happy about that and thank you for sharing your experiences with us.
See you soon!


Photos: Private photographs made available by Hans Peter P., AVORIS