The St. Dionysius Neighborhood Center being developed in the town of Traun is the perfect place to ensure your business's long-term success. It's a new square and marketplace for Traun's residents, an inviting hub that encourages visitors to linger with friends and enjoy the quality architecture.
Prime Location
The 19,000-m² site of the St. Dionysius Neighborhood Center is situated in the middle of a densely populated area between the northern edge of the city, Weidfeldstraße, and Wilhelm Anger-Straße. It is very near the St. Dionysius Primary School, the St. Dionysius Health Care and Nursing Center, the Caritas and municipal kindergartens, and the athletic center. It will link with existing transport infrastructure to the east, west, and north, making it well connected to the surrounding areas.
• Well integrated into the surroundings
• Easily reachable on foot and by bike, car, and public transport
• Attractive lunch break options
• Health services center with doctors and a planned pharmacy
• Shopping opportunities
Traun is located in the Linz-Land District, which has some of Austria's strongest numbers in both population growth and the economy. With around 24,650 inhabitants, this fifth-largest city in Upper Austria is a popular place to live. The city features a historic castle, high quality of life, an array of sporting and cultural opportunities, numerous school facilities, and a strong infrastructure. There are rapid transport connections to the nearby state capital of Linz and to the A1 and A25 motorways. Around 3,000 inhabitants live within immediate walking distance of the new neighborhood center. The population of Traun is increasing at a growth rate that is expected to remain steady.
Relax and
indulge
The new St. Dionysius Neighborhood Center is the perfect place for gourmets
A dream come true for all epicureans—and for any entrepreneur who dreams of opening a café or restaurant with outdoor seating. With inviting interiors and a beautiful patio shaded by arcades and an oasis of trees, this space has an appeal that will draw visitors from Traun and beyond. A small playground completes the facility, and weekly markets held at the marketplace across the way provide an additional flow of customers.
High visibility on the central front plaza, drawing passersby
Restaurant patio garden with natural and structural shading
Small enclosed play area
Few other restaurants in the immediate vicinity
Additional customer base from employees of adjacent businesses
Restaurant incl. patio: 425 m²
Areas can be rent as a whole or seperately (e.g. 122 m² café + 230 m² restaurant)
Plenty of space for client and patient services
Join other health providers in enjoying the benefits of the new health center. Each space is highly adaptable and provides great opportunities for individual doctors, specialists, and health care providers who are looking for an attractive, central, and easily accessible location. The building is barrier-free and easy to reach by foot. A pharmacy on the ground floor is in the planning phase—a complementary service and additional draw that will conveniently allow patients and clients to combine a doctor's visit or therapy session with their everyday shopping.
Barrier-free facility on all levels
Synergies created by different health care services
Planned pharmacy
Very near the health care and nursing center
Convenient public transport connection
Parking for patients and medical transport
Opportunity to easily combine visits to the doctor with everyday shopping needs
Health care center: 2,931 m²
Shopping space with a health care focus (ground floor): 825 m²
Medical practices (1st and 2nd upper floors): 2,106 m²
Space available starting at 150 m²
Interior
Practices are move-in ready: Floors, bathrooms, lighting, kitchenettes, network cabling Ground-floor shops: High-end unfinished spaces with basic installations
Attractive range
of possibilities
The new St. Dionysius Neighborhood Center offers a balanced mix of tenants and an attractive location
Whether you are a tobacconist, hairdresser, beauty salon, drugstore, paper shop, small appliances store, or florist, the St. Dionysius Neighborhood Center is the perfect place for your business. The center's two supermarkets - Billa and Penny -act as permanent anchor tenants that ensure a high level of traffic, while the outstanding architectural design will enhance your sales. At this stage of development, retail spaces can still be designed to suit your needs, and divided or combined according to your needs. A continuous canopy roof creates an enjoyable shopping experience, protected from sun and rain. Greenspaces and resting islands will also be included, inviting shoppers to relax and stay a while. All this adds up to a wonderful space to grow your business!
Two supermarkets already under contract, drawing high traffic
Project is subsidized by the city
Different uses create high customer frequency
Unimpeded delivery options guaranteed
219 customer car parking spaces (with multiple angled parking spaces and 20 electric charging stations) and 38 bicycle parking spaces
Fully barrier-free
Public WC (incl. disabled WC)
Outdoor smoking and seating areas
Around 50 planted trees and decorative vines, creating a comfortable microclimate
Total retail space: 3,803 m²
Retail space under contract: Billa and Penny: 2,391 m²
Available retail space: 1,412 m²
Areas ranging from 28 to 750 m² available, with option to divide or combine
Right place
for produc-tivity
The location's high quality creates high satisfaction
The location of the new St. Dionysius Neighborhood Center will dramatically enhance your business's success, with customers and employees alike appreciating its lively environment and easy accessibility. As the developer, we placed particular importance on combining architectural quality and high visibility. The result? Modern and adaptable spaces for businesses that aim to distinguish themselves in the coming years by the excellence of their location and their attractiveness as an employer.
Modern new building with excellent connectivity to the surrounding area
Attractive office spaces with fully modern and move-in-ready interiors
Easily reachable by foot, bike, car, and public transport
A great range of lunch break options
Customers and employees can combine professional and personal business
Shops and medical center create a one-stop location
Total office space: 1,622 m²
Areas available starting at 15 m²
Move-in-ready interiors: Floors, WC, lighting, kitchenettes, and network cabling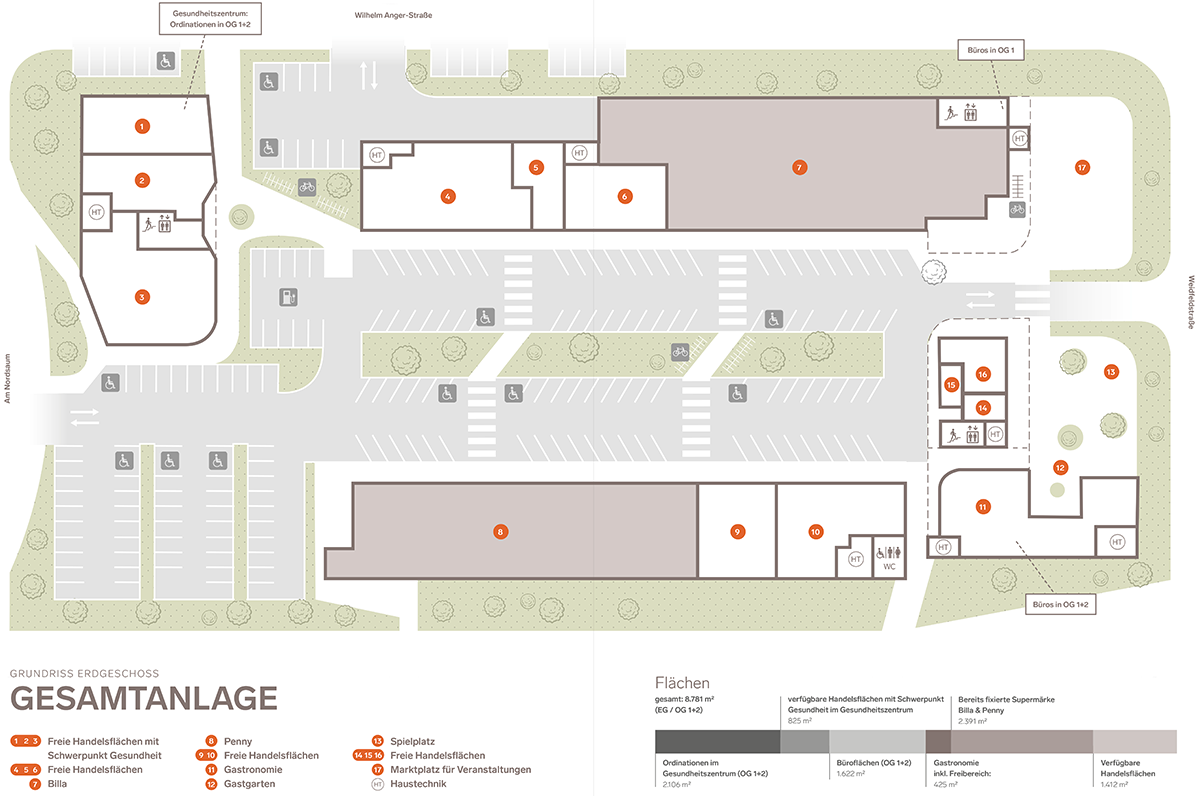 "The St. Dionysius Neighborhood Center is a project dear to the heart of the City of Traun. The responsible development of urban living space is our passion."
Would you like your business to be part of the new St. Dionysius Neighborhood Center?
Our agents are happy to assist you.
SHOPS, OFFICES, AND SERVICE PROVIDERS
Mag. Simone Mitterhauser
Next-Immobilien

+43 664 380 12 66
MEDICAL AND THERAPEUTIC PRACTICES
Wolfgang Ortner
Wolfgang Ortner Management- und Beteiligungs GmbH

+43 664 18 17 0 13
Supporting new businesses
The City of Traun Marketing Department supports future tenants of the center by helping navigate official channels and providing numerous free advertising opportunities.
Stadtmarketing Traun GmbH: +43 7229 23 828 or office@stadtmarketing-traun.at