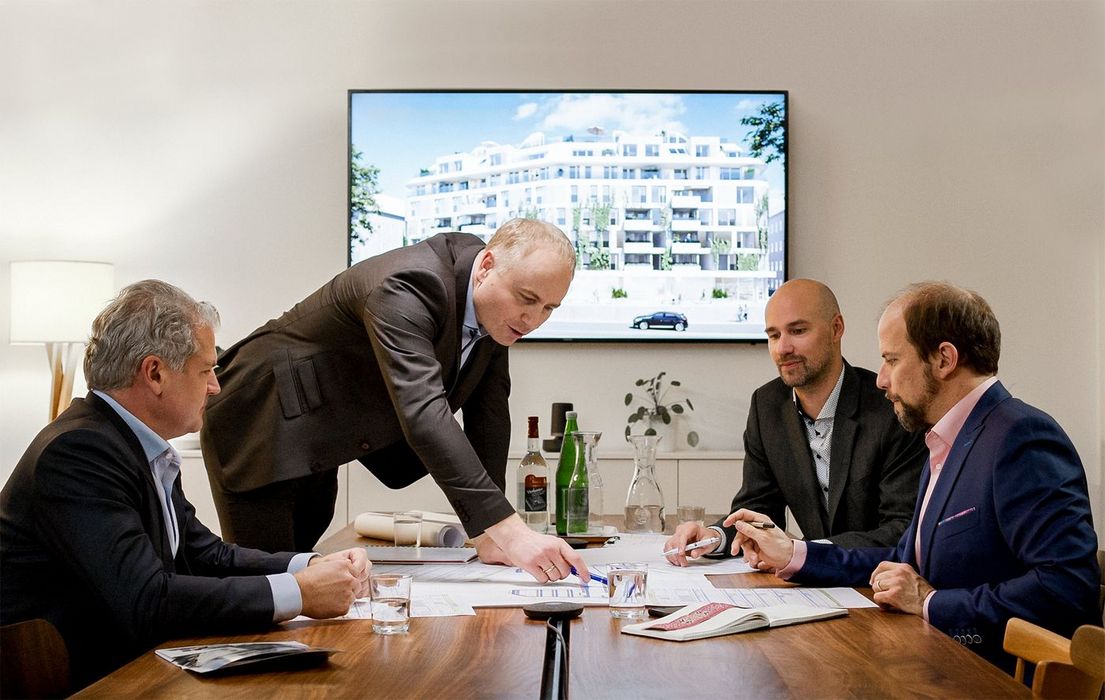 FOCUS #2: Prospective Planning
FOCUS #2: Prospective Planning - or: If you want to get ahead, you have to think ahead!
"Forecasts are difficult, especially when they concern the future." This quote is attributed to the German comedian and folk singer Karl Valentin. It humorously sums up that prospective planning is a complex task. This is especially true for real estate development. What begins with an initial site inspection matures into an idea and finally becomes a concept that reflects the character of the building site in all its facets. The greatest challenge lies in translating theory into practice - i.e. into plans that can be approved and ultimately into long-lasting buildings. We dedicate ourselves to this task with all our strength and passion, but by no means as lone warriors.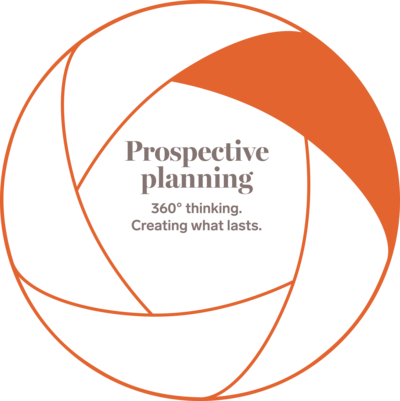 Holistic perspective
without compromise
To rule out surprises as far as possible, we work closely with selected partners in the fields of architecture, technical planning and craftsmanship. Together we pursue a 360° approach that interlocks all relevant legal, economic, aesthetic and practical aspects of a building project.
This begins with the architectural design, which considers all the needs of future users, and continues with the selection of artisans and ecologically safe materials and the careful use of resources. With far-sighted planning and high implementation quality, we maximise the service life of our properties and, at the same time, significantly reduce life cycle costs. We cannot afford to compromise at any stage of the project.
Tailor-made
instead of
copy-paste
The added value of individual solutions become clear in The Blend in Vienna Favoriten. Together with external experts, one of the most innovative environmentally friendly energy systems for heating, cooling and hot water supply were developed there.
In combination with geothermal energy, a heat pump enables the flats on the standard floors to be cooled by underfloor heating and the flat roofs of the attic flats to be cooled by concrete core cooling. The waste heat is sent to the geothermal probe field, which is charged in the summer and thus achieves greater efficiency in the winter. This is not only future-oriented but also ensures low operating costs. The roof and courtyard gardens in The Blend can be used communally and thus make an important contribution to strengthening community - be it active raised-bed gardening, conversation or relaxation.
The Vienna Urban Oasis is currently still an empty construction site. The floor plans for the approximately 70 flats are contemporary and well thought-out. They provide an extraordinary sense of home and, in some cases, even allow natural lighting in the bathroom. The intensively landscaped inner courtyard will be a welcome oasis of retreat for the future residents. In addition, the entire building will be lowered to the street level of Mariahilfer Straße. This will create a spacious forecourt that provides a direct link to the public space.
The three-storey apartment building City. Country. Kisses. in Graz again creates an enormous leap in quality in terms of climate protection and living quality with little additional financial expenditure. This is ensured, for example, by preparations for e-wall boxes, a generous bicycle parking area or the energy supply by means of a photovoltaic system and groundwater heat pump. The latter has twice the efficiency of conventional air-source heat pumps.
It is obvious that behind long-term viable properties with flexible use concepts like these, there is sometimes extremely complex preparatory work. If our customers do not feel this but are simply pleased with the result, we have achieved our goal.
Renderings & Photos: frame 9, teamneunzehn, AVORIS