The prominent square on the outer Mariahilfer Straße practically calls out for dignified architecture. The Vienna Urban Oasis is awaiting its complete renovation and loft conversion to achieve high aesthetic standards and an outstanding quality of life. A green oasis awaits in the courtyard, fulfilling the desire for a perfect urban jungle…
The "Vienna Urban Oasis" project is a set of two almost perfectly mirrored three-story houses built around 1840 at Mariahilfer Straße 166 & 168 in Vienna's 15th district. This project will merge the two currently almost entirely unoccupied properties into one overall unit.


New Courtyard Building and Roof Addition
Twenty apartments will be tucked away in the striking yet playfully light two- to three-story loft conversion. Floor by floor, continuous floor-to-ceiling windows harmonize with bands of aluminum. As for the historic building section, the white of the elegant old architecture blends pleasingly with the warm golden-brown of the new façade. If you have a thirst for light, this could be the perfect home for you.
All units are open and bright, characterized by flowing spaces. And with sizes ranging from 55–135 m², the various apartments can appeal to singles, couples, and larger families alike. All units contain one or more bedrooms, with spacious kitchens that are the heart of each apartment. The adjacent outdoor areas face every direction except north. The bathrooms, too, are filled with as much natural light as possible, often through an architectural interplay of glass bricks, frosted glass, skylights, and glass roofs. The bathroom and WC are always separate, with storage rooms and, in some cases, closets providing essential storage space.
The newly erected courtyard building houses three bright apartments with impressively livable and well-planned layouts. Its lavender covered roof pleases the senses and calms the eye. It too is constructed of high-quality materials, with radiant heating and Smart Home features to make life easier and more enjoyable.
Revitalization of Historic Buildings
Our guiding precept for this high-quality refurbishment and modernization project is to retain the building's historic elegance while creating apartment layouts that are perfectly suited to modern lifestyles. The addition of balconies and private gardens to many of the courtyard-adjacent apartment units — which range in size from 30 to 117 square meters — enhances value and quality of life.
Further, the thermal renovation of the existing building will immediately improve energy efficiency and will occur concurrently with the renovation of the riser mains, façade, electrical system, and all other installations.
All the charm of a historic building — and yet so very new. It's everything the heart could desire.

Relaxed Living
On the first upper floor — located on the roof of the shopping area — a lush, green courtyard provides an ideal microclimate. It offers paths to walk and places to sit, a habitat of green, and different materials that lend structure to the open space. Bushes, decorative grasses, vines, flowers, and four tall shade trees invite birds to stay and sing a while. The result? An inviting place to sit on a bench and enjoy the evening sun and a neighborly chat.
Get connected!
The ground floor will be united into a single large shopping area. Strong pillars, inspired by the existing window patterns of the historic building above, give the structure a sense of solidity that both anchors it and provides a solid base for the new loft conversion above. Floor-to-ceiling windows between the columns lend a feeling of lightness to the architecture and ensure ample incoming daylight for the shopping area. An aluminum border separates the shopping and living areas while simultaneously creating a connection to the loft conversion through the matching materials.

The two houses are connected via the ground floors and the basement but otherwise are each fully independent, with separate entrances and addresses. The existing stairwells will be preserved and two elevators added in the courtyard. The shopping area and all residential units are barrier-free and fully accessible. In the basement, the addition of an underground parking garage adds value and convenience.
Show more
facts & figures
Site Overview:
Loft conversion: 1,829 m² living space + 511 m² outdoor space
Courtyard building: 223 m² living space + 104 m² outdoor area
Renovated building: 1,431 m² living space + 139 m² outdoor space
Shopping area: 1,255 m² usable floor area
Roof-Addition:
20 apartments, including 4 maisonettes; apartment sizes: 55–135 m², outdoor spaces: 5–95 m²; generous interior designs with individual details and central open kitchens; 1–3 bedrooms, separate bath and WC, storage units; fireplace hookups and ceiling heights of up to 3.4 m on the 3rd floor; Smart Home controls for the windows, shading, heating, air-conditioning, lights, intercom, and energy-use monitoring
Courtyard Building:
3 apartments, including 1 maisonette; apartment sizes: 70–78 m², outdoor spaces: 18–47 m²; bright, modern interior designs; 2 bedrooms in each apartment, separate bathroom and WC, storage units; Smart Home control for windows, shading, heating, air-conditioning, light, intercom, and energy-use monitoring
Revitalized Historic Section:
23 apartments; apartment sizes: 30–117 m², some with open spaces of 9–27 m²; floor plans are adapted to modern lifestyles while preserving the historic charm; 1–3 bedrooms, mostly separate bathroom and WC, storage units;
complete renewal of riser mains, façade, electrical system, other installations, and new modern thermal insulation
Basement:
Construction of an underground parking garage with space for 16 cars, 3 motorcycles, and 116 bicycles; storage units approx. 3 m² each; machinery room for the gas central heating system
Heating:
Gas central heating; radiant heating in the roof addition and courtyard, radiators in the historic section; ventilation system in the apartments along Karmeliterhofgasse
Heating demand:
26 kWh/m2a, fGEE 0,74 (roof addition)
29 kWh/m2a, fGEE 0,84 (courtyard building)
23 kWh/m2a, fGEE 0,90 (renovated historic building)
72 kWh/m2a, fGEE 0,80 (shopping area)
Status:
The permit process is underway.
Show more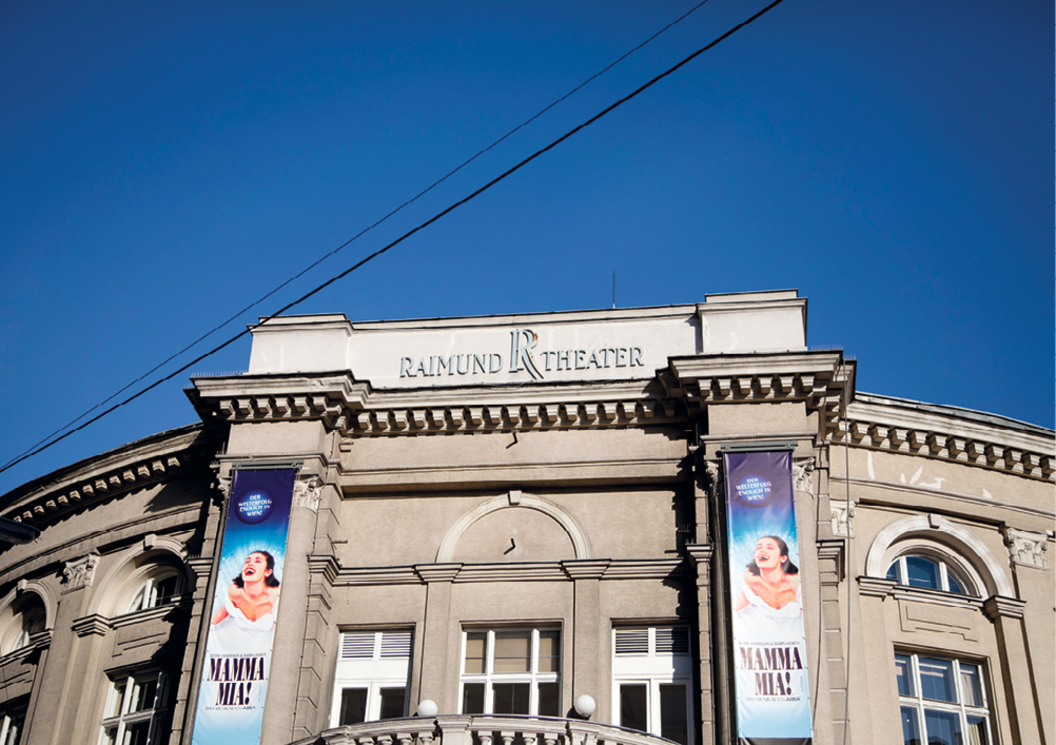 neighborhood
Urban & central
Within walking distance of Westbahnhof Station, inner Mariahilfer Straße shopping district, and the Raimund Theater, Vienna Urban Oasis is seamlessly connected to the city center. At the same time, it's not far to the Schönbrunn Castle grounds to play sports or go for a walk. And right at the doorstep is the up-and-coming Reindorfgasse neighborhood with all its small cafés and charming galleries.

Transportation access is particularly excellent. There are two subway lines (U3 & U6) within a short walk, while multiple tramway and bus lines (10, 10a, 12a, 52, 57a, 60) make any distance short. And by car it's only a brief drive to the West exit to the Autobahn — unless, of course, you want to take a train from the nearby station.
Several different supermarkets and doctor's offices are accessible within just a few minutes' walk, as are numerous schools and kindergartens (Henriettenplatz Secondary School, Friesgasse Private School, Sir Karl Popper School, Diefenbach Secondary School, Heidi Private Kindergarten and Afterschool Care, Dadlergasse Kindergarten and Nursery).
The Neighborhood & Favorite Places
-> The vast Schönbrunn Castle grounds: cultural enjoyment, Christmas and Easter markets, a leisurely stroll or relaxed jog through lovely gardens, coffee and cake in the Gloriette or Sunday brunch at Landtmann's Jausenstation, and possibly the most beautiful zoo in the world…
-> The Westbahnhof Railway Station: a great transportation hub that seamlessly connects you to the city center or the outskirts — and also has a shopping center that's open till 9 pm and even later. Pretty handy!
-> The multi-cultural feeling: livens up the area!
-> The annual Reindorfgasse festival: where you can enjoy great concerts along with many other exciting activities.
-> Quell Restaurant, in the Reindorfgasse: delicious home cooking in a rustic dining room. This is where Ostbahn-Kurti used to record his albums…
-> The Eduard on Sparkassenplatz: simply delightful!
-> M77 on Marchstraße: exquisite cuisine and a great atmosphere!
-> Augustin, just a few doors down: a sweet patio garden, vintage decor, fine clientele. And several Austrian music greats can be seen here on a regular basis…
-> Brick 5: vegetarian brunch, yoga, live music, all sorts of contemporary culture events and flea markets in a sensational building. The inner courtyard is also quite enjoyable. Stop by sometime…
-> The Hollerei in the Hollergasse: seasonal vegetarian cuisine in a cozy parlor with wood paneling. They also offer cooking classes!
-> Velobis at the corner of Johnstraße and Linzer Straße: a bicycle bistro in the former Gloriette Cinema that serves Austrian-African cuisine and sells "growing" children's bikes — you buy a bicycle once and can adapt it over and over until your tyke has outgrown it. Great concept!
-> The world's first downtown Ikea: its new branch, in green architecture, is within walking distance. Sitting in traffic on the way to the SCS shopping area is a thing of the past!
-> The Technical Museum: it's always a fantastic experience for young and old alike!
To be continued… with your very own favorite places :)
Show more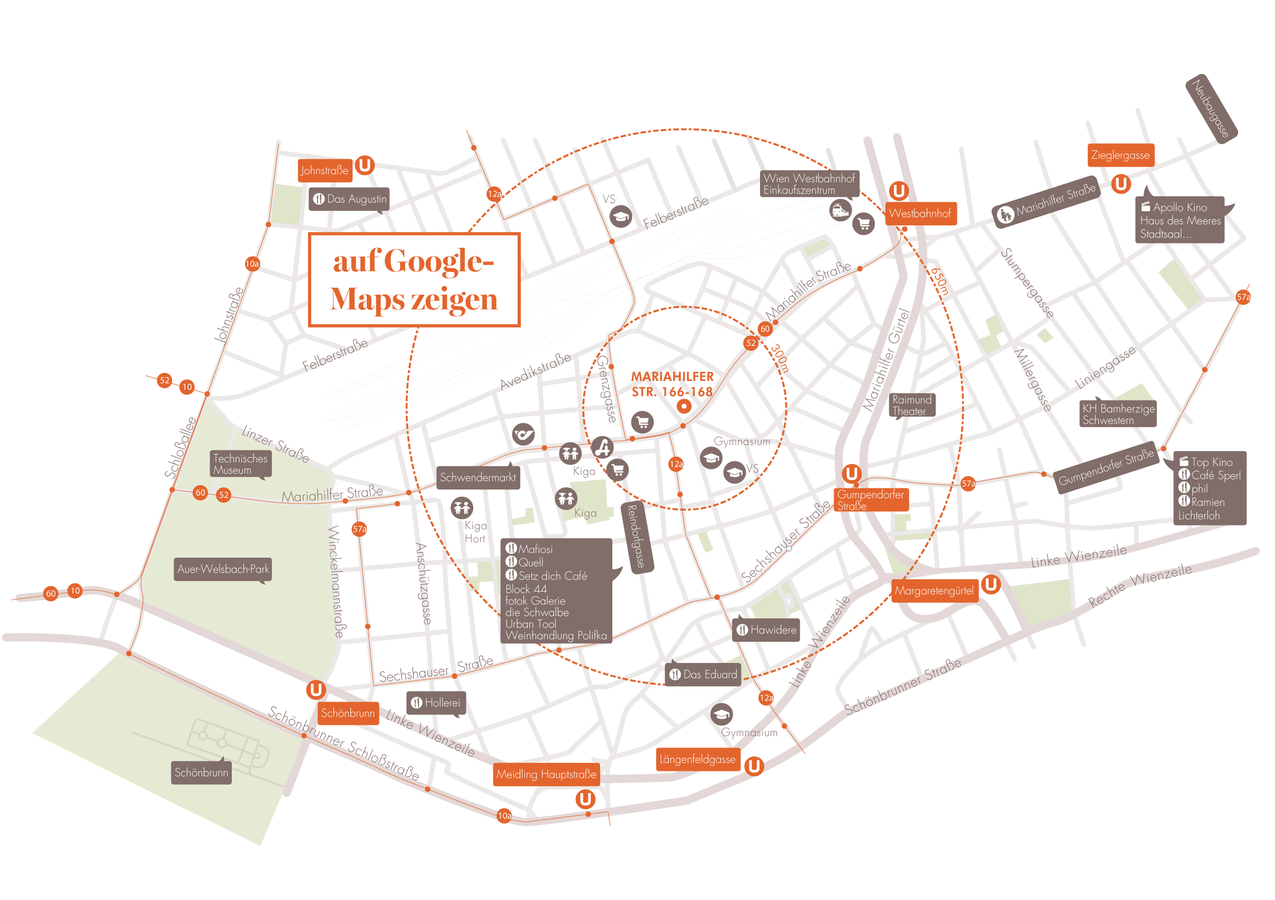 Your request
Thank you for your interest in our project "Vienna Urban Oasis".
Please provide your information to contact us:
Kerstin Schönsgibl
AVORIS