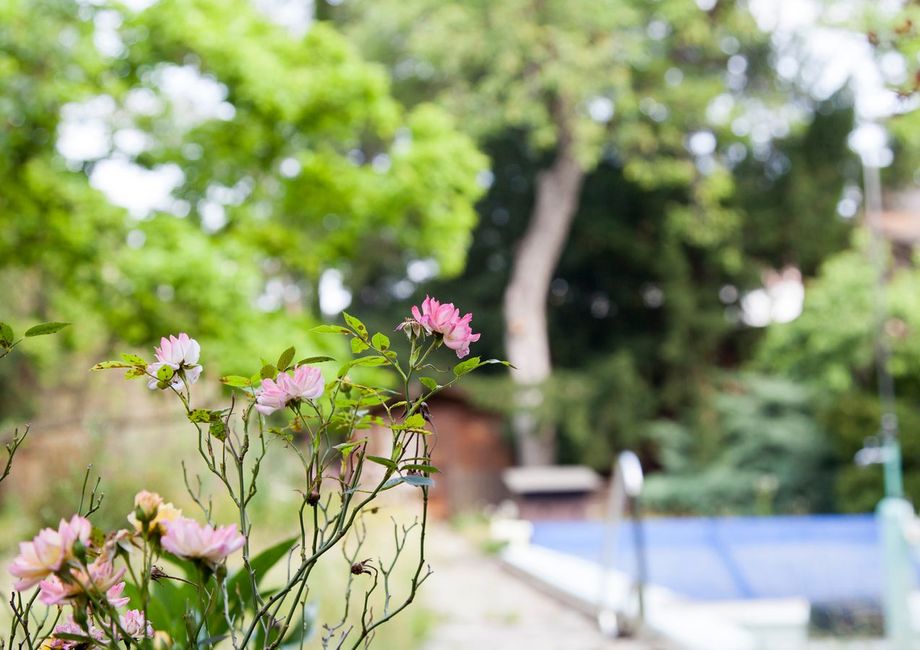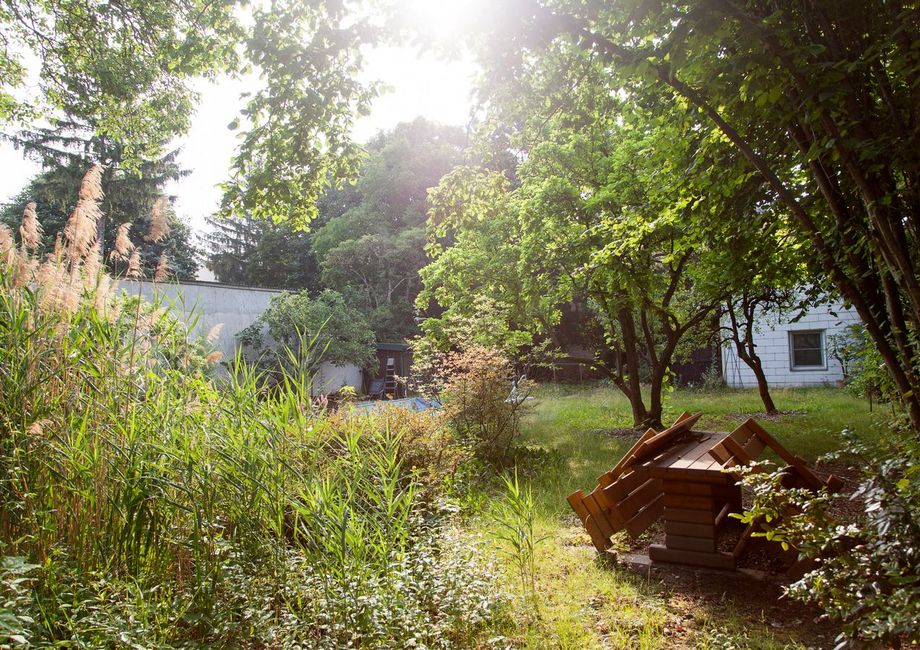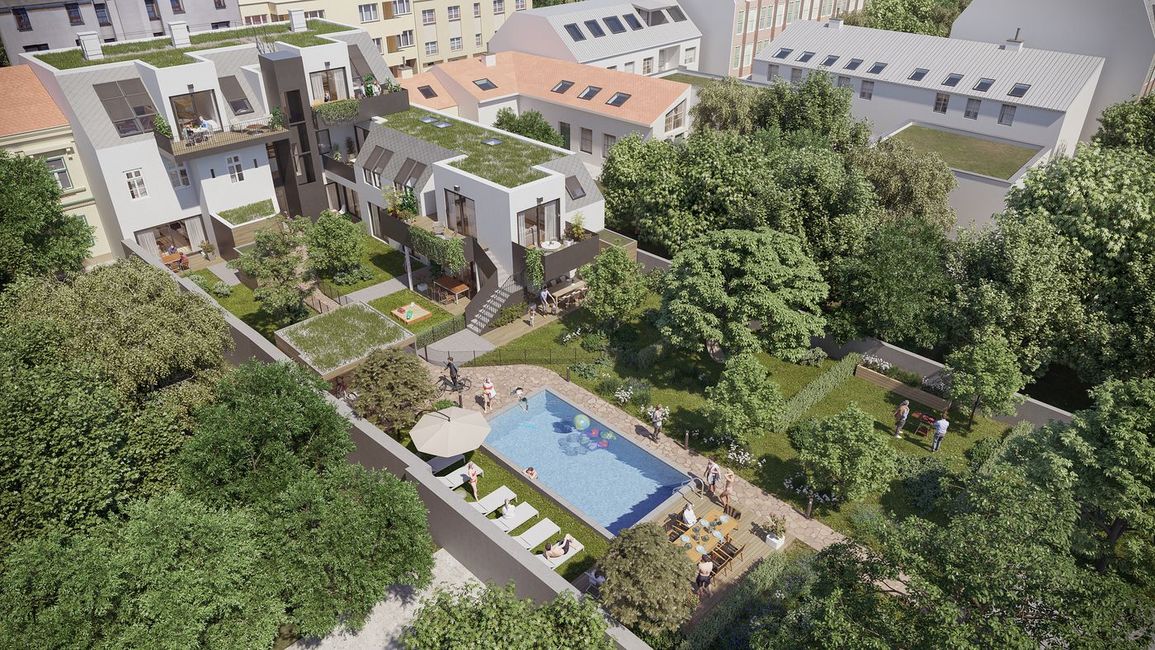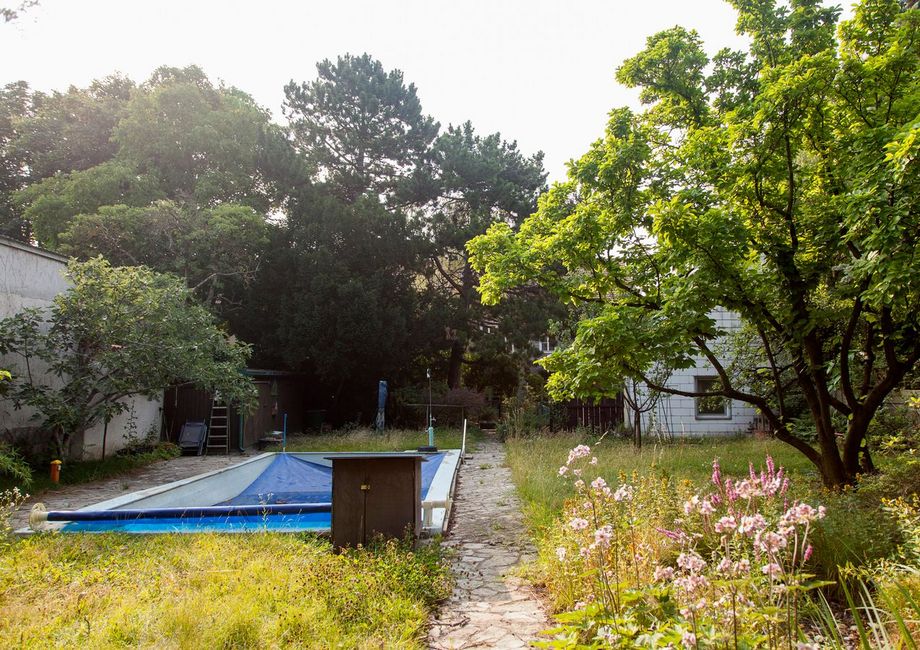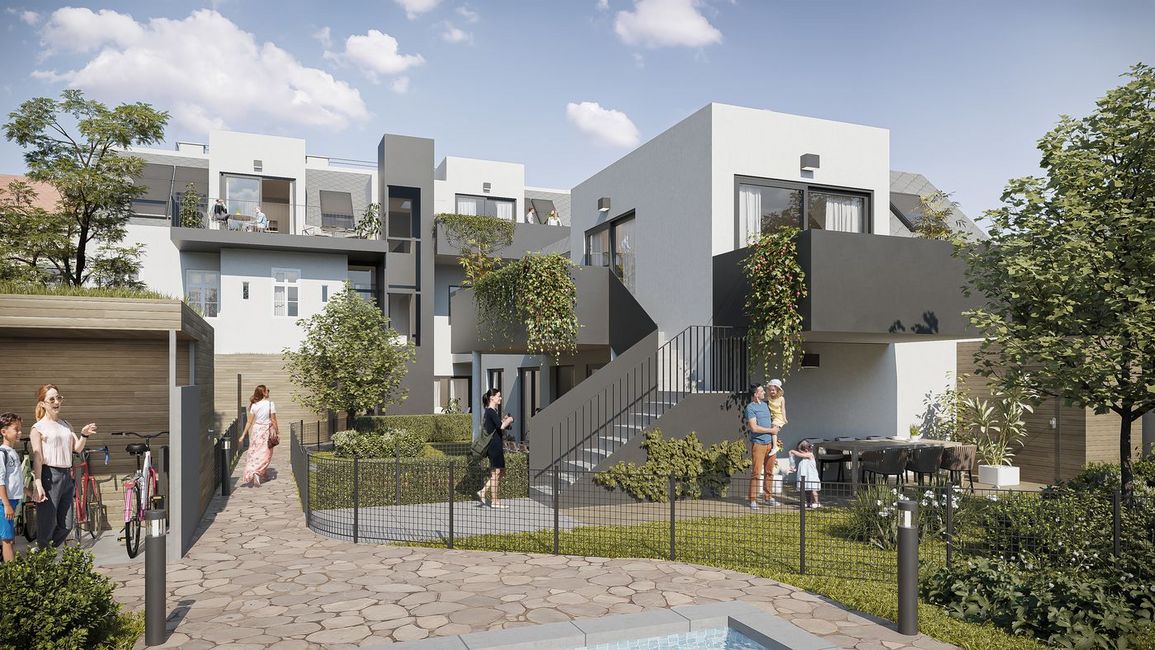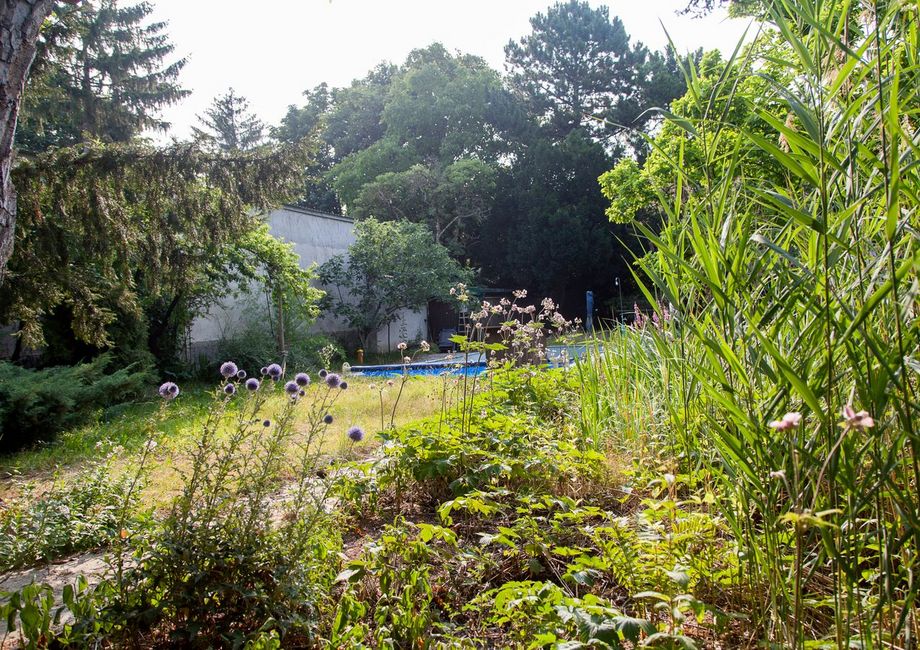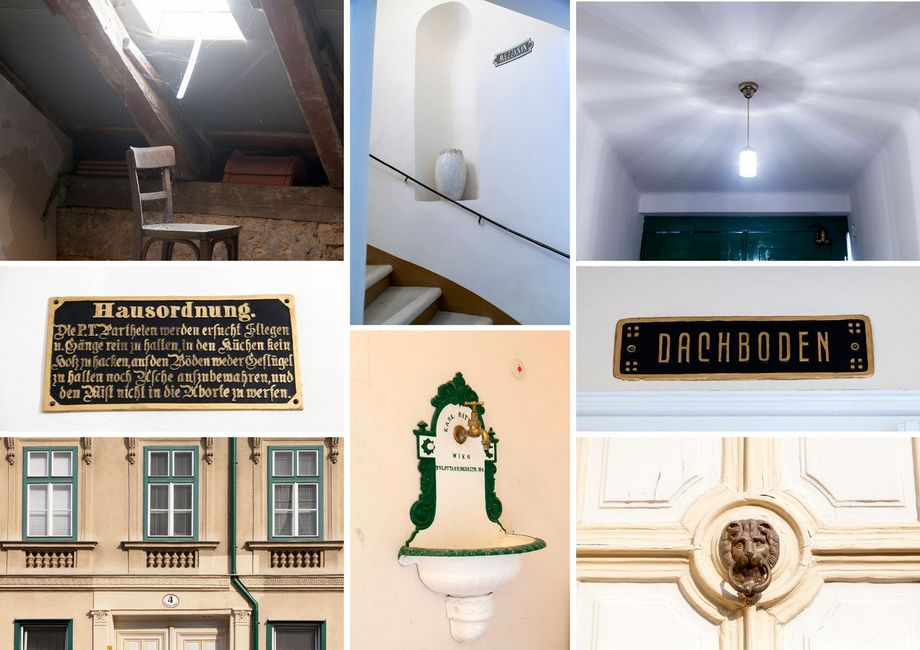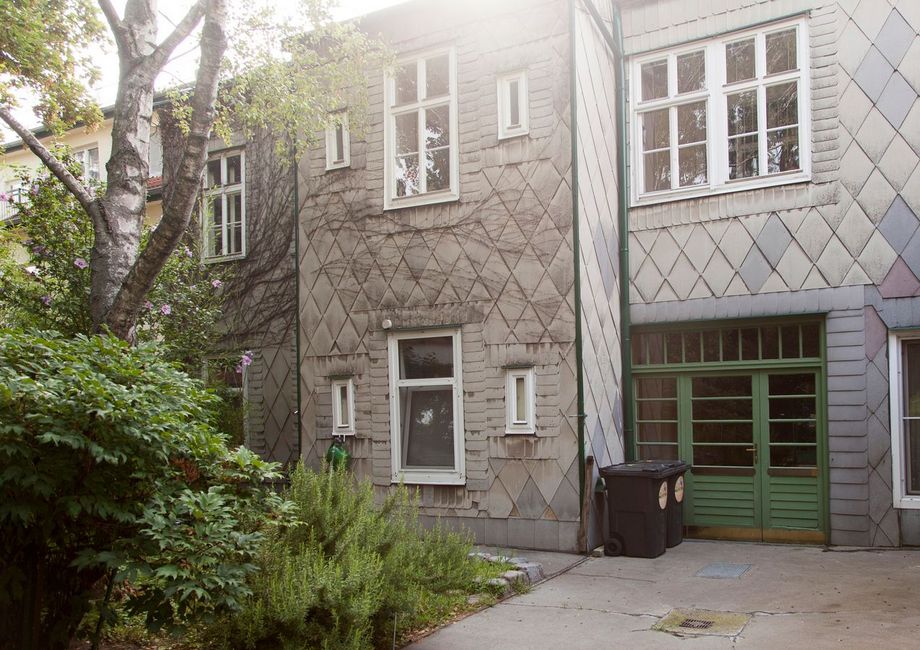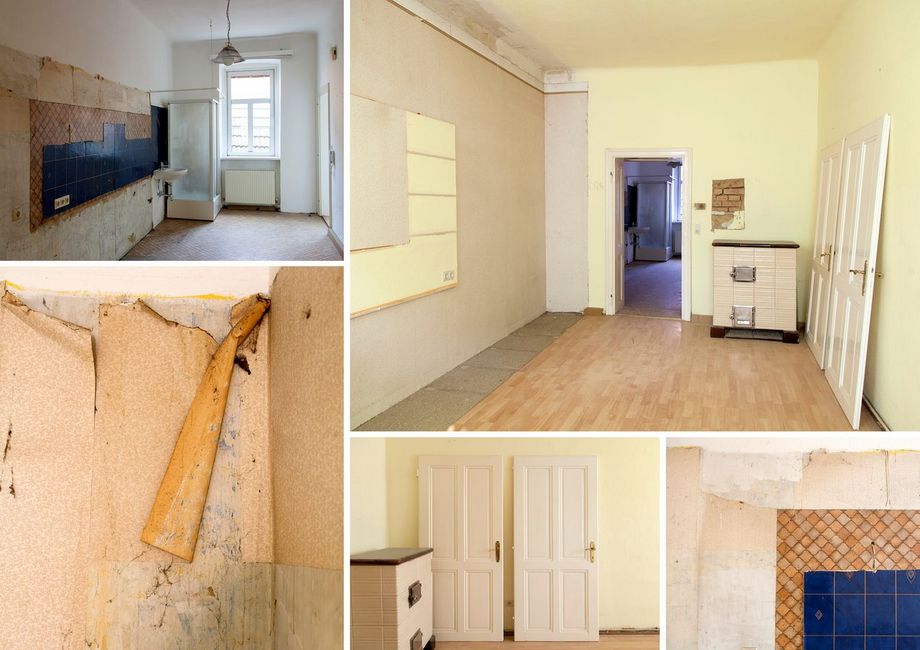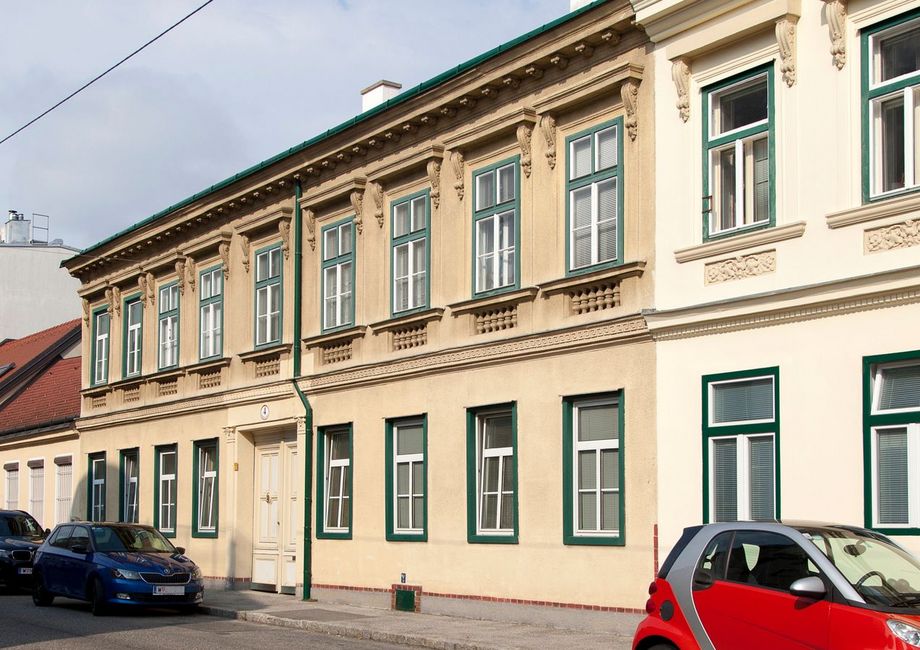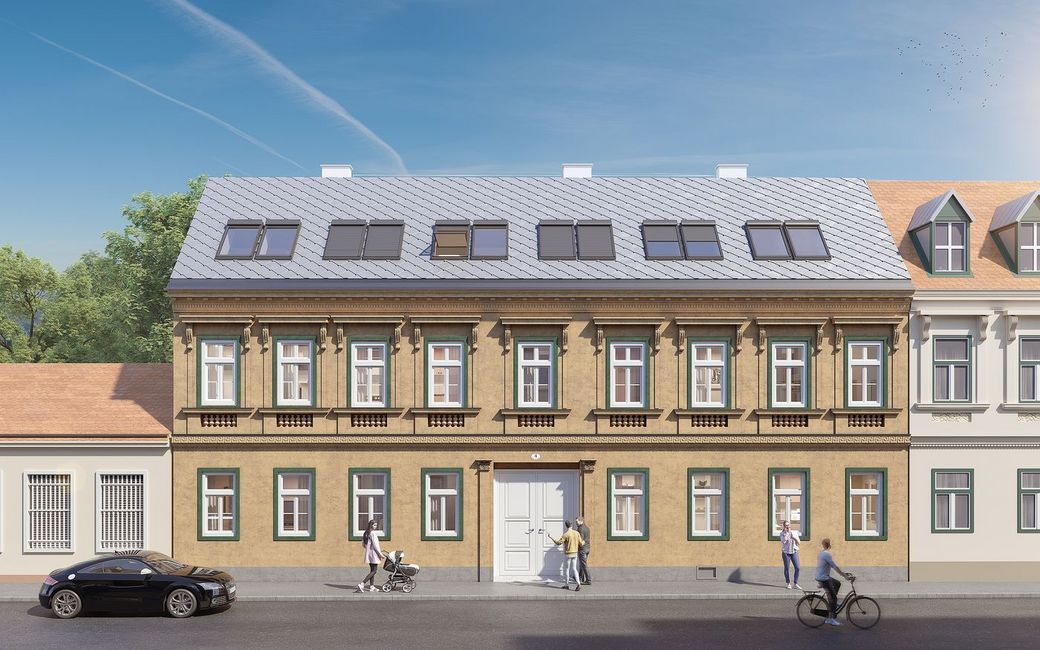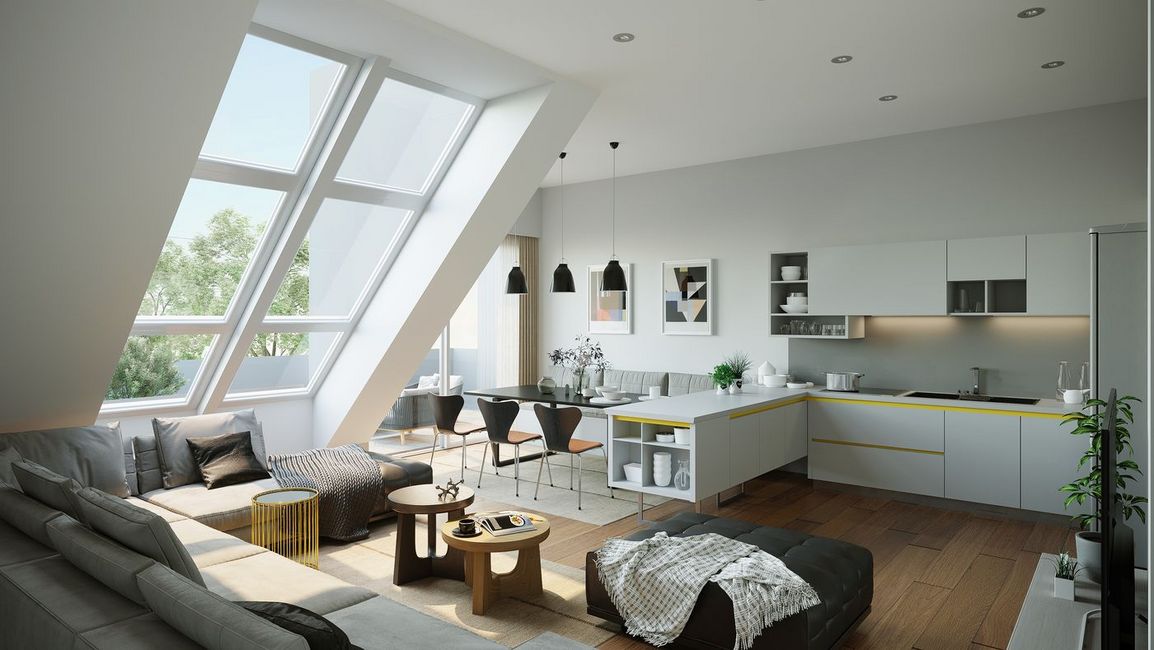 The Suburban Beauty in the best residential neighborhood of Hetzendorf will make you want to spend your holiday at home! A beautiful turn-of-the-century building on the outside, topped by two light-filled attic flats, and a discreet new modernist building inside the courtyard. Plus private outdoor spaces, loads of green … and even a shared swimming pool and lounge area available to all residents.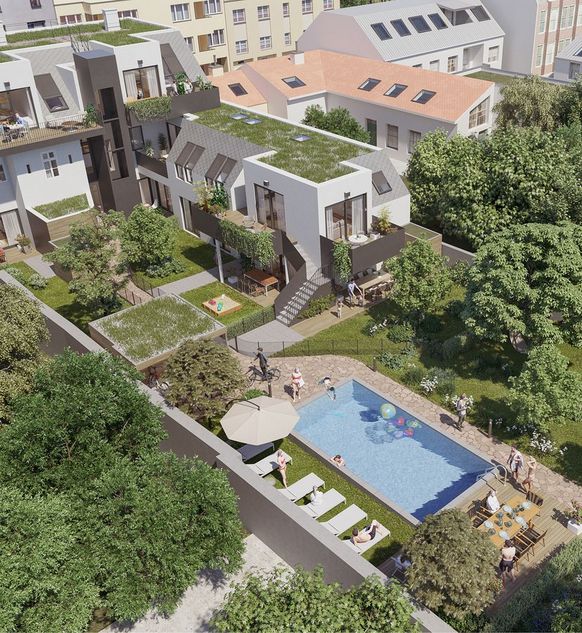 The Suburban Beauty can be found on a quiet avenue, within walking distance of Hetzendorf Castle. Following its renovation, the beautiful existing building from ca. 1880 will shine once again in historic Schönbrunn Castle yellow.
Further design plans will bring modernity to the old building. Two spacious attic apartments will be included in the roof extension, and a discreet two-story courtyard building will be added inside the extensive courtyard, creating space for two more apartments. The addition of an elevator to the courtyard wall makes almost all apartments barrier-free accessible.
The apartments in the old building seem to long to be brought back to life. Taking care to preserve the building's historic flair, the floor plans and materials are adapted to modern living requirements, and a private outdoor space has been added to each apartment. The design of the new apartments in the roof extension and in the courtyard also follows the principle of creating excellent living spaces and a good quality of life. A central open kitchen adds a bright heart to each unit, with outdoor areas and other rooms arranged around it. The ceilings of all apartments are pleasingly high, with sufficient storage space included in the floor plans.
A ground-level stroller room is being added in the main building. Covered bicycle parking, garden tool sheds, and an enclosed garbage room will be clad in wood and built in the courtyard, providing access to the shared garden area in the back. There, the pool and adjacent terrace await, offering you a relaxing break with your neighbors and an ideal spot to enjoy the lushness of nature.
While the streetside façade of the building will stay true to the historical design, the picture will change in the courtyard. Here, white plaster and anthracite details will contrast with warm wooden surfaces, natural stone, and lush greenery. Numerous trees will provide natural shade for hot days.
A hammock, raised raspberry bed, extremely pleasant surroundings, hygge, tons of fun and H2O for that relaxing vacation sensation combined with the utmost quality of life … that's what the Hetzendorf Suburban Beauty is all about.
Show more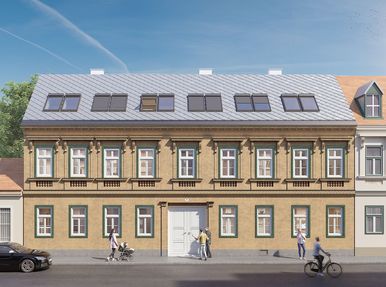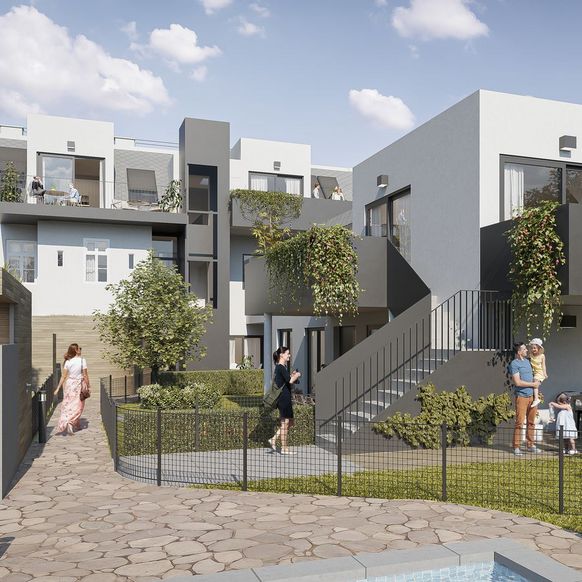 facts & figures
The Project
Renovation of a historic building with loft conversion and a new building in the inner courtyard; small apartment building with 8 units ranging from 54–146 m² of floor space plus private outdoor areas ranging from 14–116 m² (balconies, terraces, private gardens); elevator addition creates majority barrier-free access to the apartments; stroller room in the main building and shared pool with lounge area; courtyard and roof greening creates a cooling microclimate, together with trees planted for natural shade; utility room, covered bicycle storage, and enclosed garbage room in a courtyard outbuilding.
The Apartments
2- to 4-room apartments with well-planned contemporary interior design, generous glazing, effective interweaving of interior and exterior spaces, private outdoor areas for all units, first-rate building and finishing materials, central kitchens, individual detailing, high-quality hardwood floors in the living areas, porcelain stoneware and brand-name fixtures in the bathrooms, natural lighting in most bathrooms, floor-level showers with rain-style fittings, storage rooms, high-security doors, new building ceiling heights from 2.7–3.1 meters (up to 3.15 meters in historic building), water and electricity hookups in all outdoor areas, and smart home controls for shading, heating, and cooling
Site Overview
Total use area: 726 m², of which:
374 m² are historic apartments in old building
192 m² loft conversion
160 m² new inner-courtyard building
Private open spaces: 549 m² (balconies, terraces, gardens)
Shared garden area: 270 m² (incl. pool & lounge area in the courtyard)
Total site area: 1,173 m²
Heating, Cooling, and Energy Use
Energy-efficient central heating system with forced-air heat pumps located in the utility room, under-floor heating with individual room controls, cooling through concrete core activation, additional cooling in the attic addition provided by decentralized split-system air conditioning

37.6 kWh/m²a (heat energy ref., SK), 0.73 fGEE (attic addition)
45.7 kWh/m²a (heat energy ref., SK), 0.75 fGEE (new courtyard building)
Project Partners
Architecture: t-hoch-n ZT GmbH
Structural engineering: Ferdinand Jeindl
Building physics: Christoph Breitenecker
Geology: 3P Geotechnik
Surveying: KOPA
Current status
This project has been submitted for approval to the building authorities. A legally binding building permit is expected for Q1–2/2021.
Show more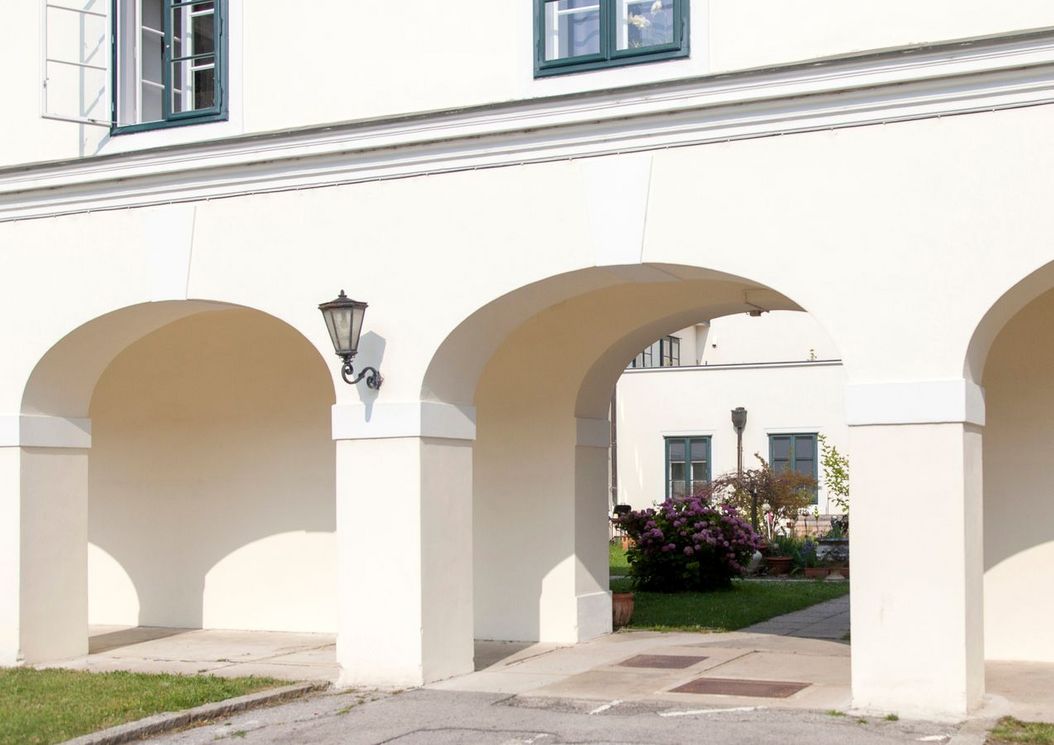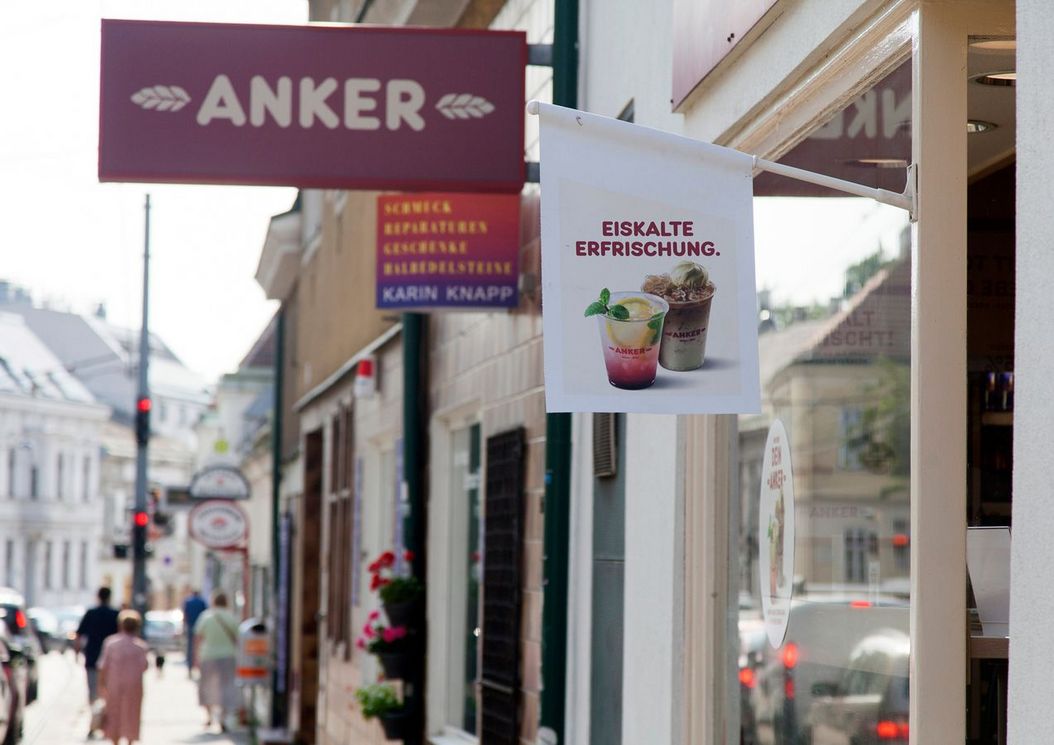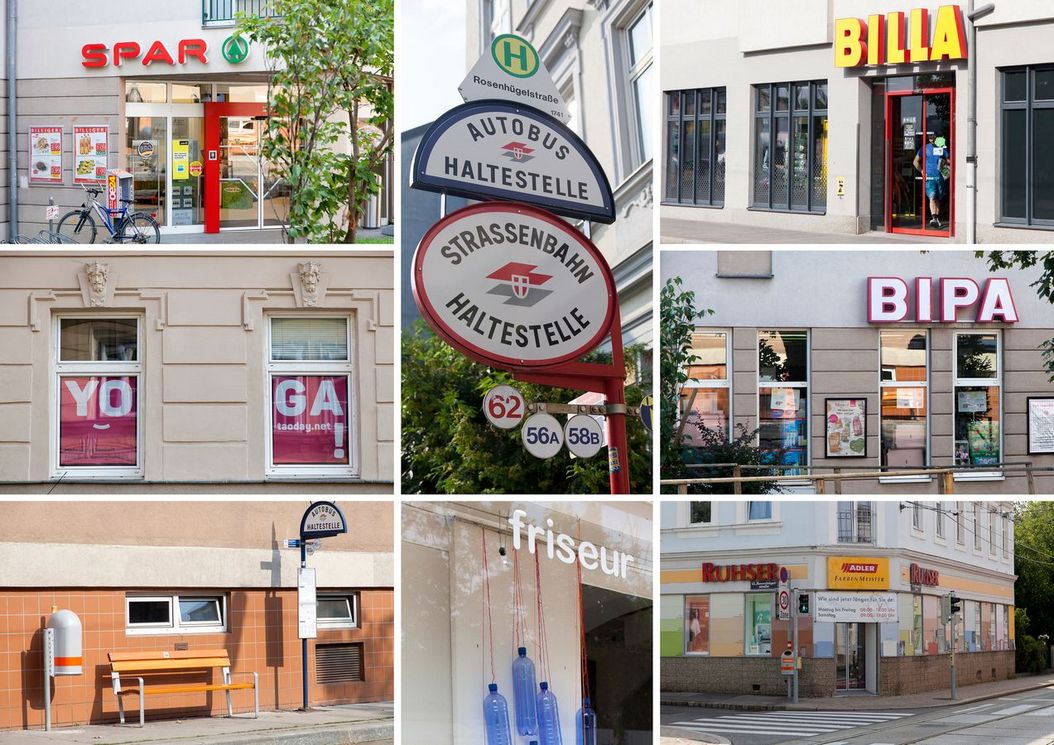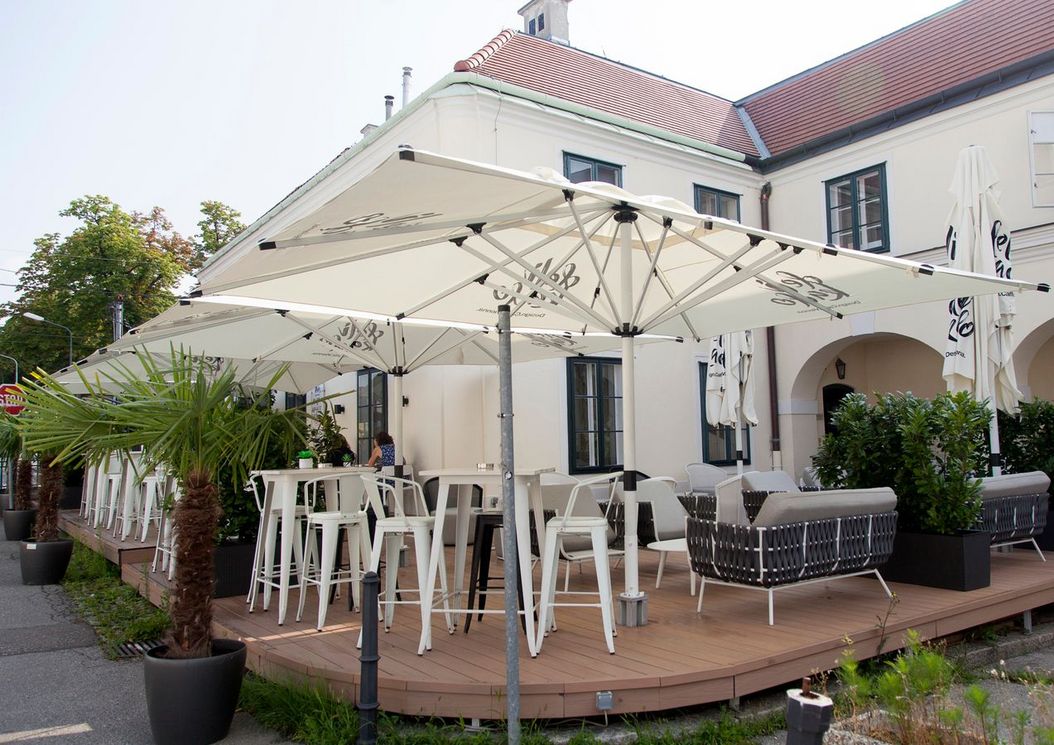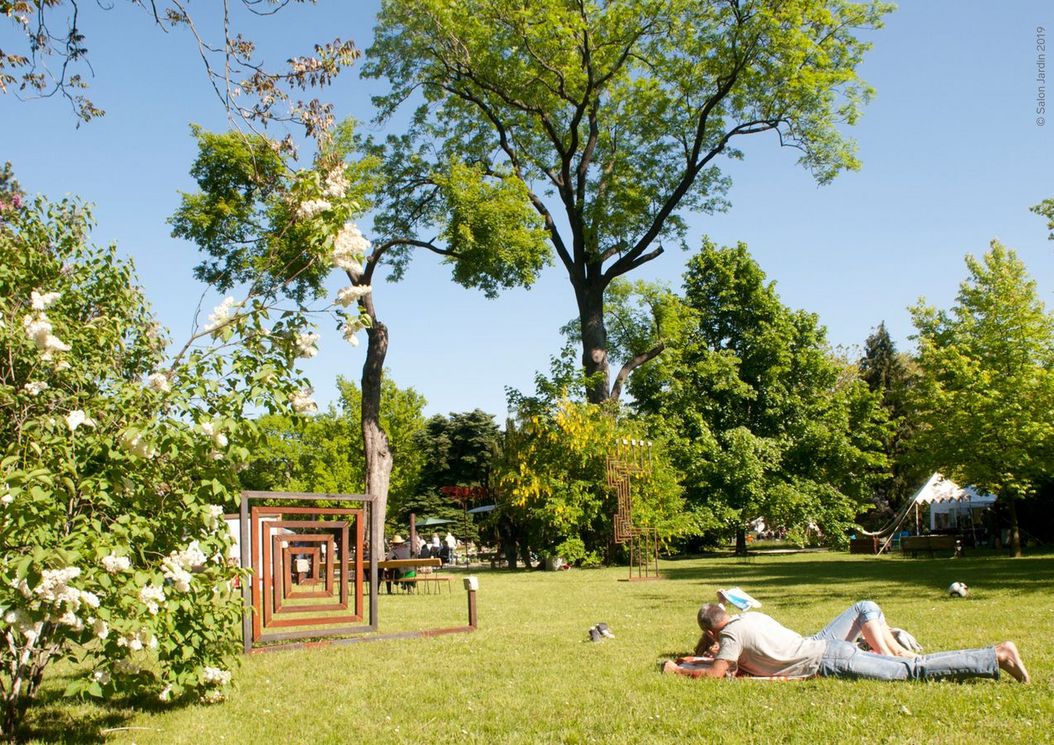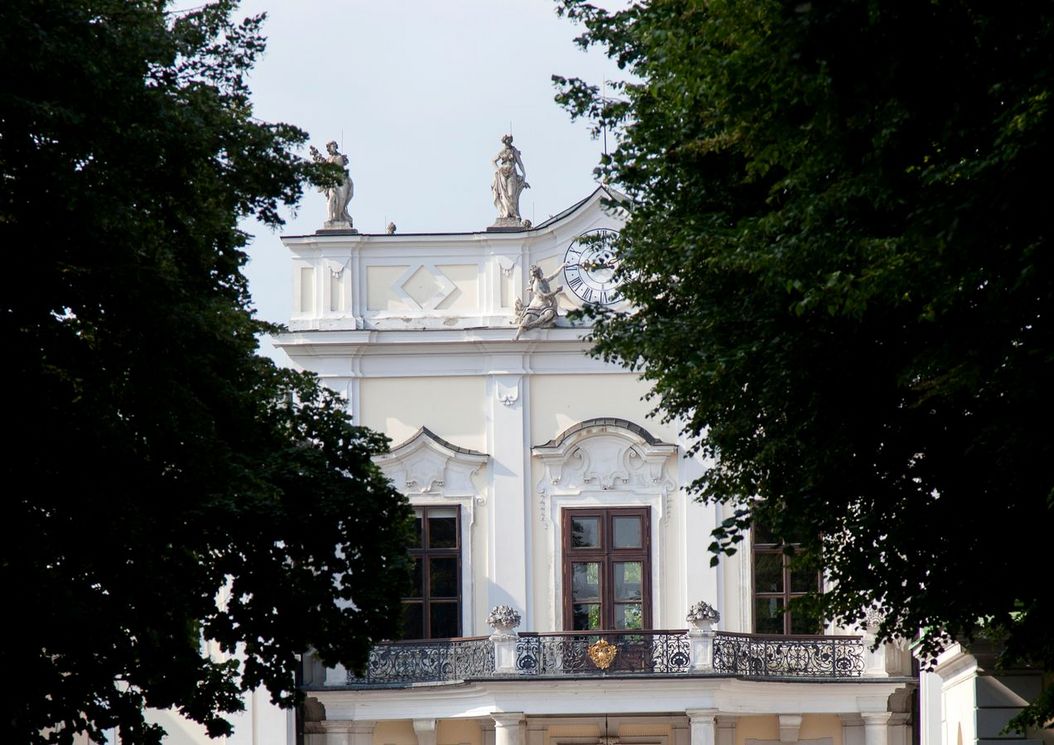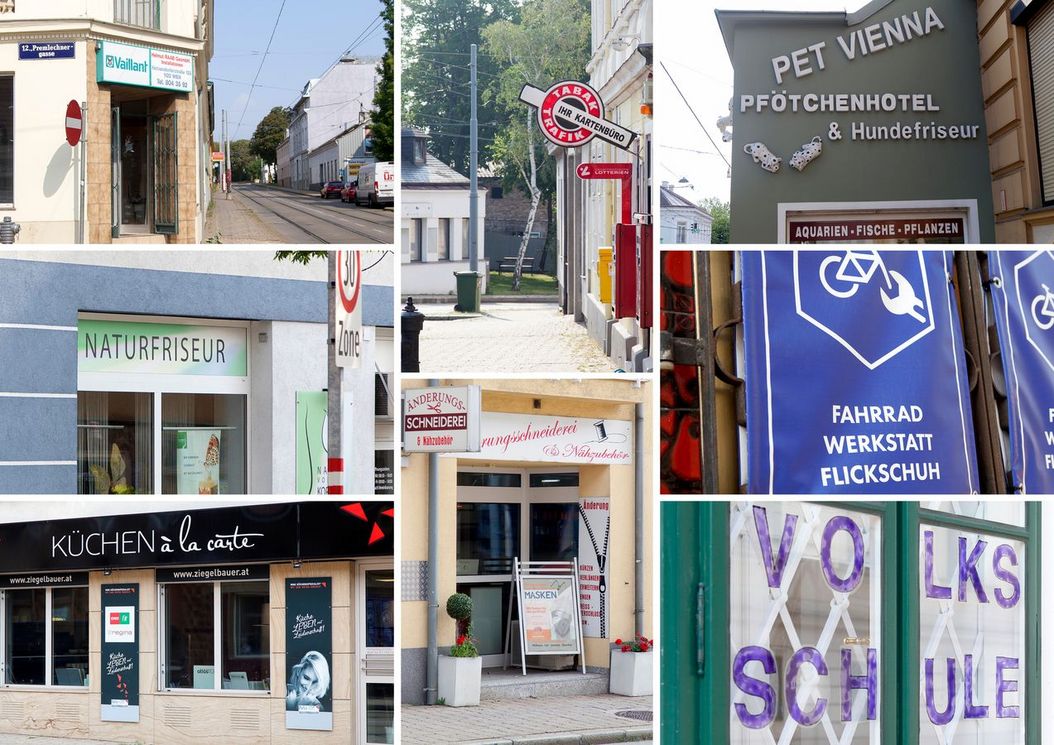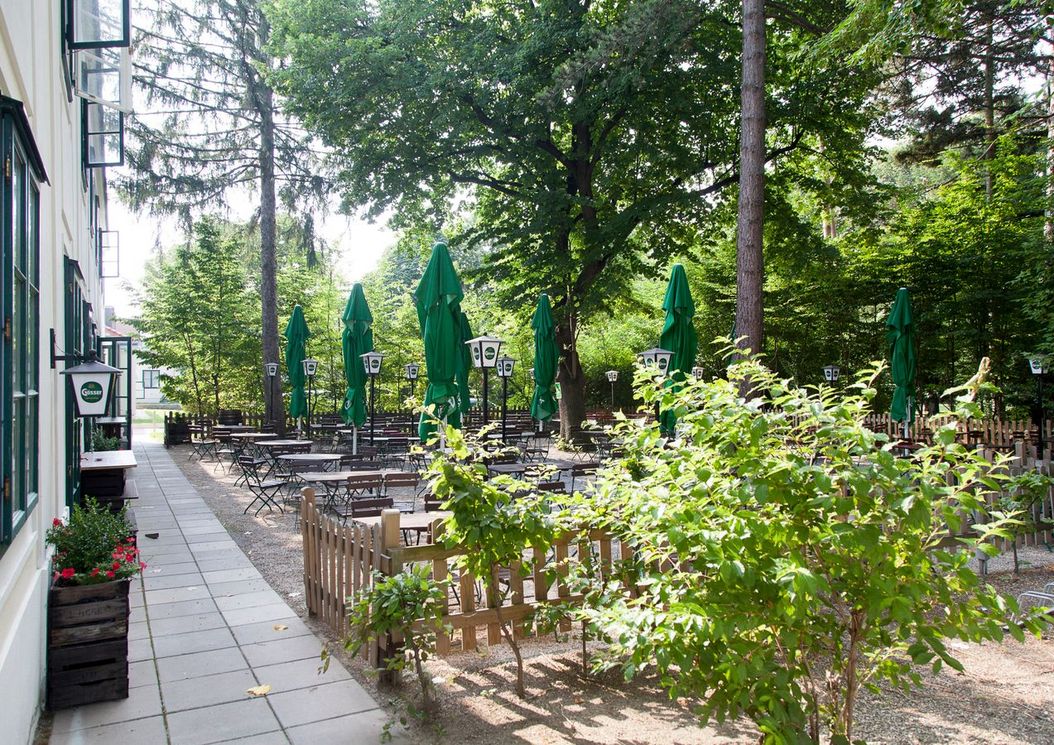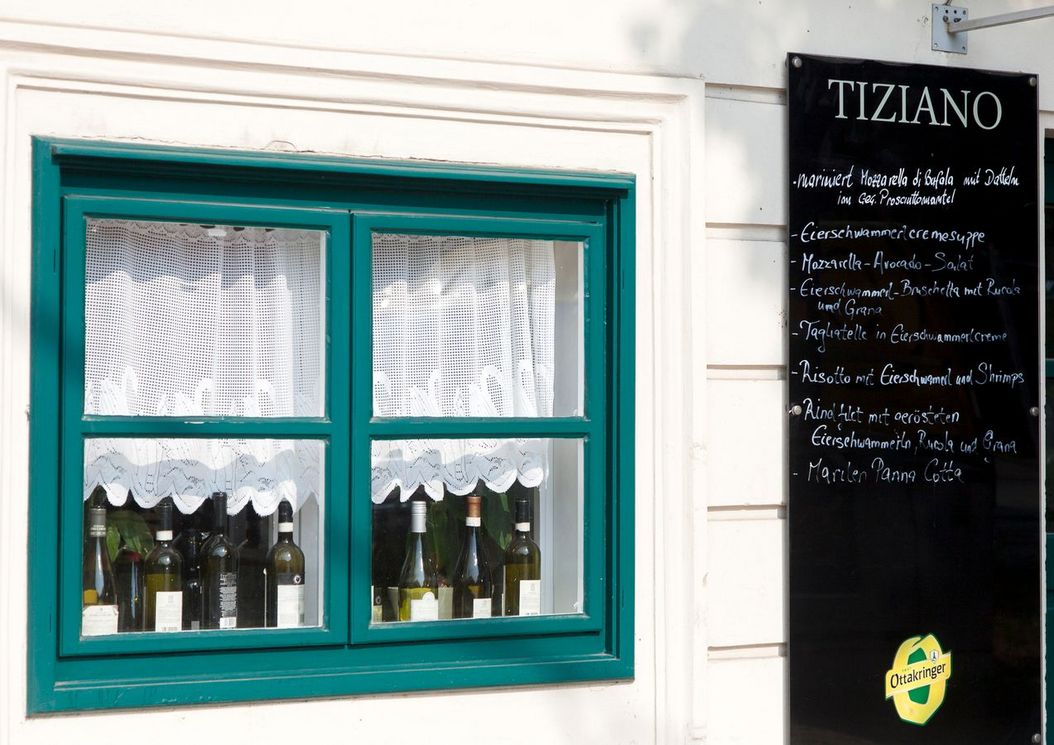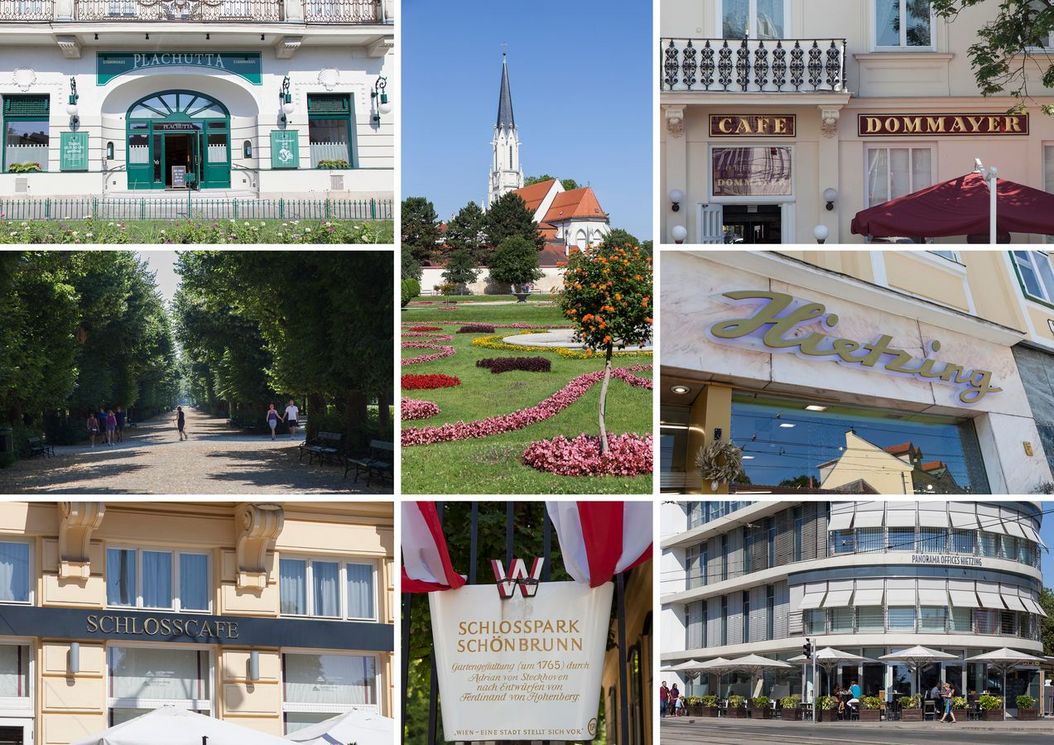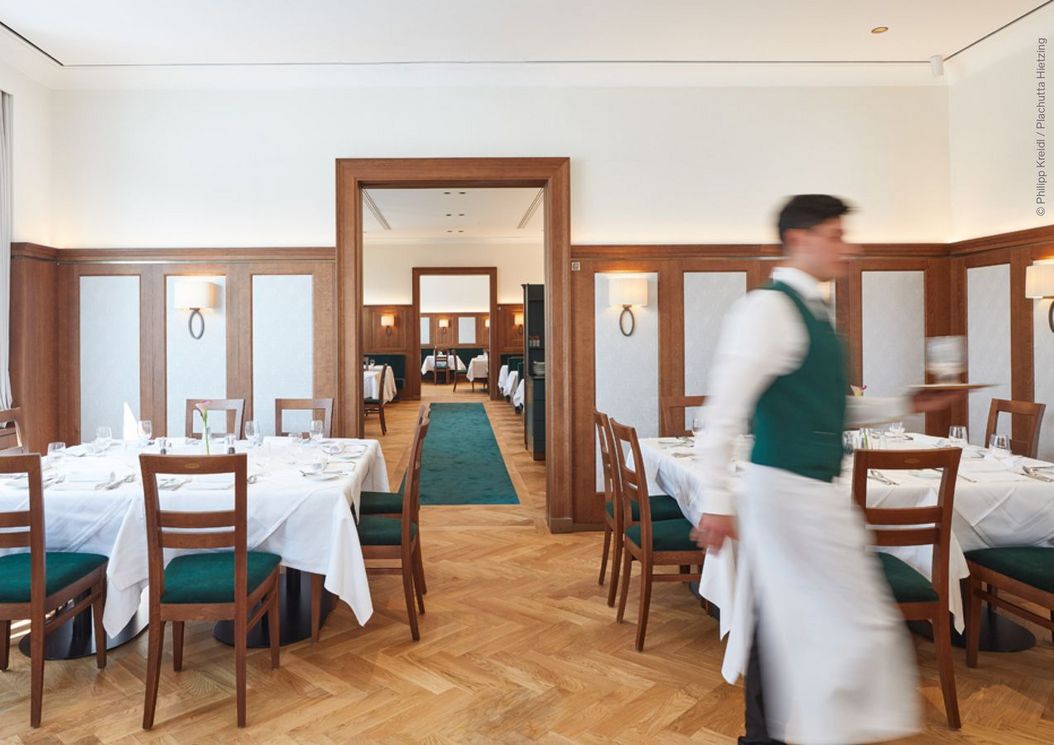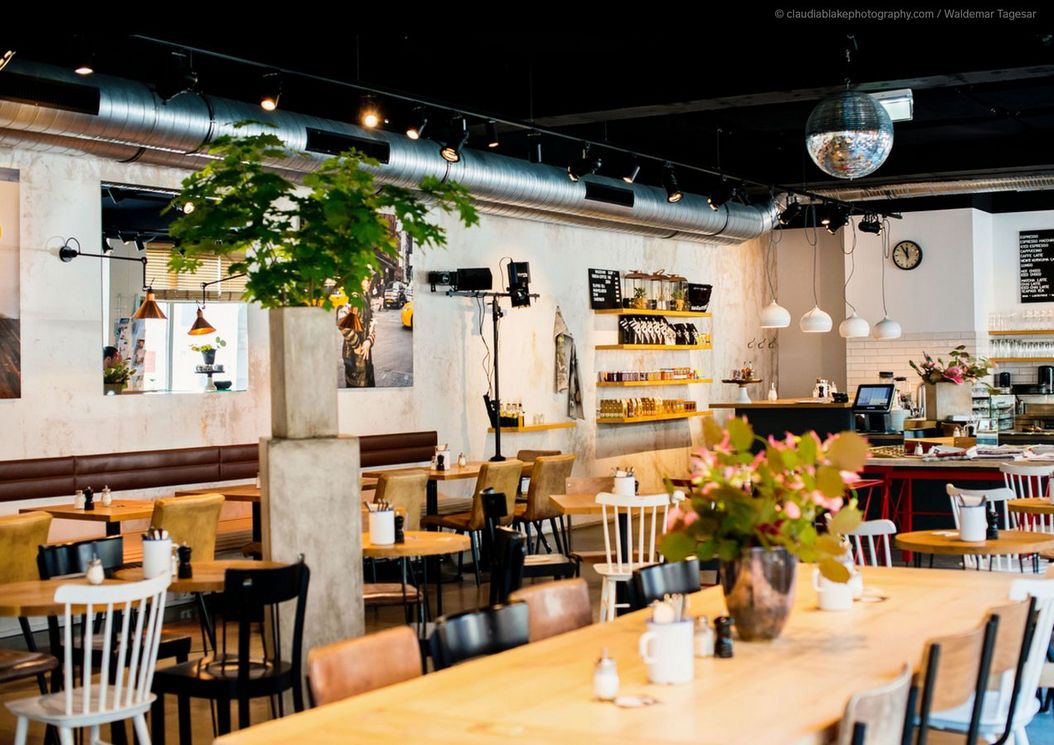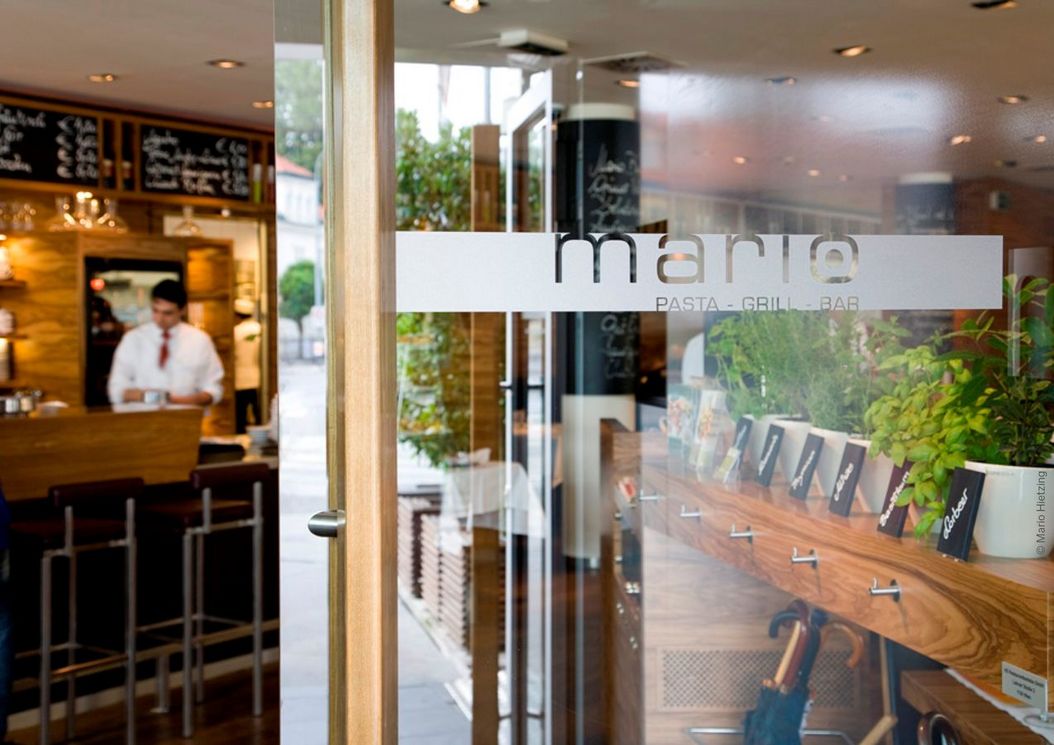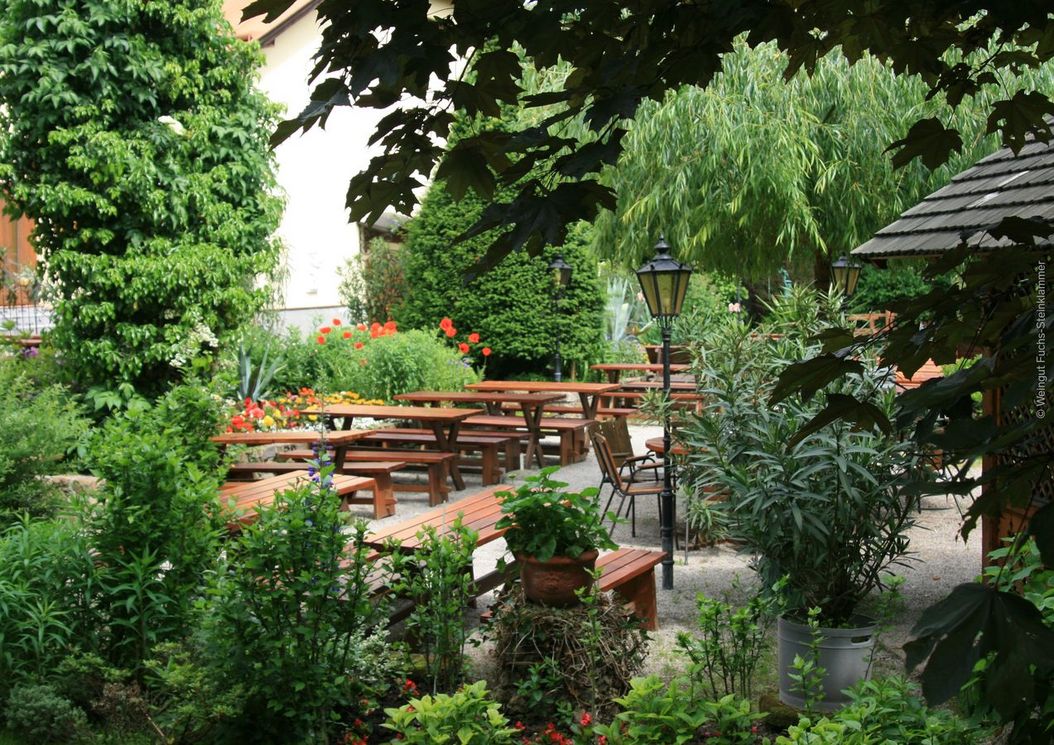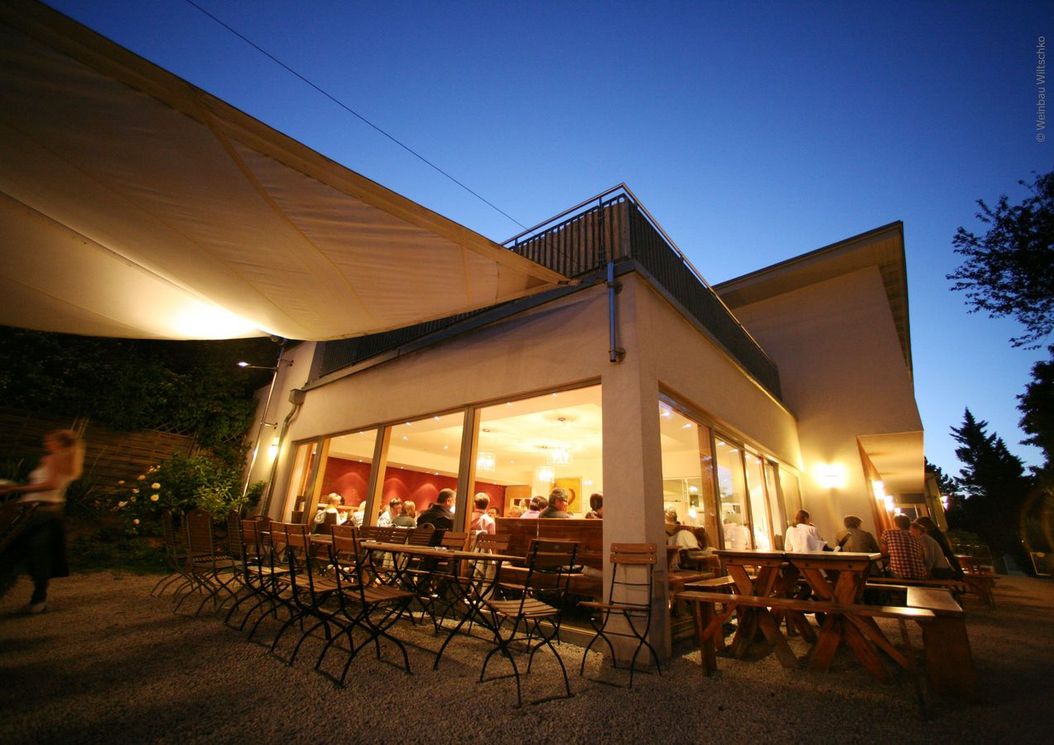 neighborhood
Infrastructure, daily needs, and medical care
That special small-town suburban flair is still alive and well here. The houses are a bit lower, the traffic is a bit more relaxed. Life here feels slower … in a good way. That said, you will also find numerous shops for your daily needs (supermarkets, pharmacy, drugstore, tobacconist, post office …), all within walking distance, at the center of the Hetzendorf neighborhood. There is also an organic market, a paint store, liquor store, and wine shop, an excellent travel agency, a gas station, yoga studio, hairdressers, and beauty salons.
If you want to enjoy more extensive shopping, then check out the hustle and bustle of Alt-Hietzing, which has a number of exclusive shops. Meidlinger Hauptstraße and of course the city center are also both nearby.
All kinds of medical specialists, general practitioners, and veterinarians are located within a radius of about 500 meters. The Hietzing Hospital, Speising Orthopaedic Hospital, and the Meidling Emergency Hospital are all also relatively close when more extensive medical care is called for.
Recreation, nature, leisure, and dining
The Hetzendorf Castle grounds are not open to the public for most of the year, but the gates are thrown wide for the annual Salon Jardin at the end of May. It's an absolute must! And the Schönbrunn Palace grounds are less than two kilometers away, and open to all visitors year-round. Get some exercise, go for a walk, stop and have a snack at the Jausenstation or any of the other options, and visit the zoo, the Easter or Christmas market, the Palm House, or the Desert House. The opportunities are plentiful and always worth a stop.
If you are ready to go a little further, the extensive sports and walking area of the Lainzer Tiergarten is still not too far, and the Hermes Villa is an excellent culinary stopover. If vineyards and wine are what you're looking for, then wander over to one of Vienna's traditional wine taverns, like Mauer zu Steinklammer, Edlmoser, Wiltschko, or Zahel (and many more). In Hietzing, high society and fine dining await you at Plachutta, Café Dommayer, Mario, Nook, Waldemar's Day Bar, and more. And if you just want to stay within walking distance of your new home, there are a multitude of choices here too: simple and good at Gasthaus Haschka, upscale Italian cuisine with an excellent selection of wines at Ristorante Tiziano, cozy beer garden atmosphere at the Bierstöckl on the Hetzendorf Castle grounds, or maybe a visit to Biergasthof Otto. Each of these has the potential to become your new favorite place!
Public and Private Transport
The Rosenhügelstraße stop on Tram Line 62 is just 100 meters away. It stops at the Hetzendorf and the Meidling stations, both rapid-transit hubs, before heading right to Karlsplatz in the Vienna city center. The other direction takes you to Hietzing Hospital. Tram Lines 62 and 60 also cross the route, creating an excellent connection over Lainzer Platzl to Hietzing and, in the other direction, via Mauer to Rodaun. Bus lines 58a, 58b, 16a, and 63a all also run in the immediate vicinity.
Breitenfurter Straße and Altmannsdorfer Straße are both close by and, like Grüner Berg and Schönbrunner Allee, act as Vienna's main traffic arteries, making it easy to reach any destination by private transport. If you want to leave the city behind, you can quickly access the south and west exits from Hetzendorf.
Childcare and schools
There are several kindergartens and schools for all ages in the area. A selection includes:
The Endergasse, Monpti (sports), Spatzennest, and Hetzendorf KIWI kindergartens; the Regenbogenschule, Waldschule (forest school), Speisinger Straße, Steinlechnergasse (all-day), Infinum (private), and Neue Sportmittelschule Hetzendorf secondary schools; High School for Fashion and Product Design & School of Fashion at Hetzendorf Castle, Bergheidengasse High School for Tourism and Business, Schönbrunn School of Horticulture, Schumpeter Business Academy and Business School
Show more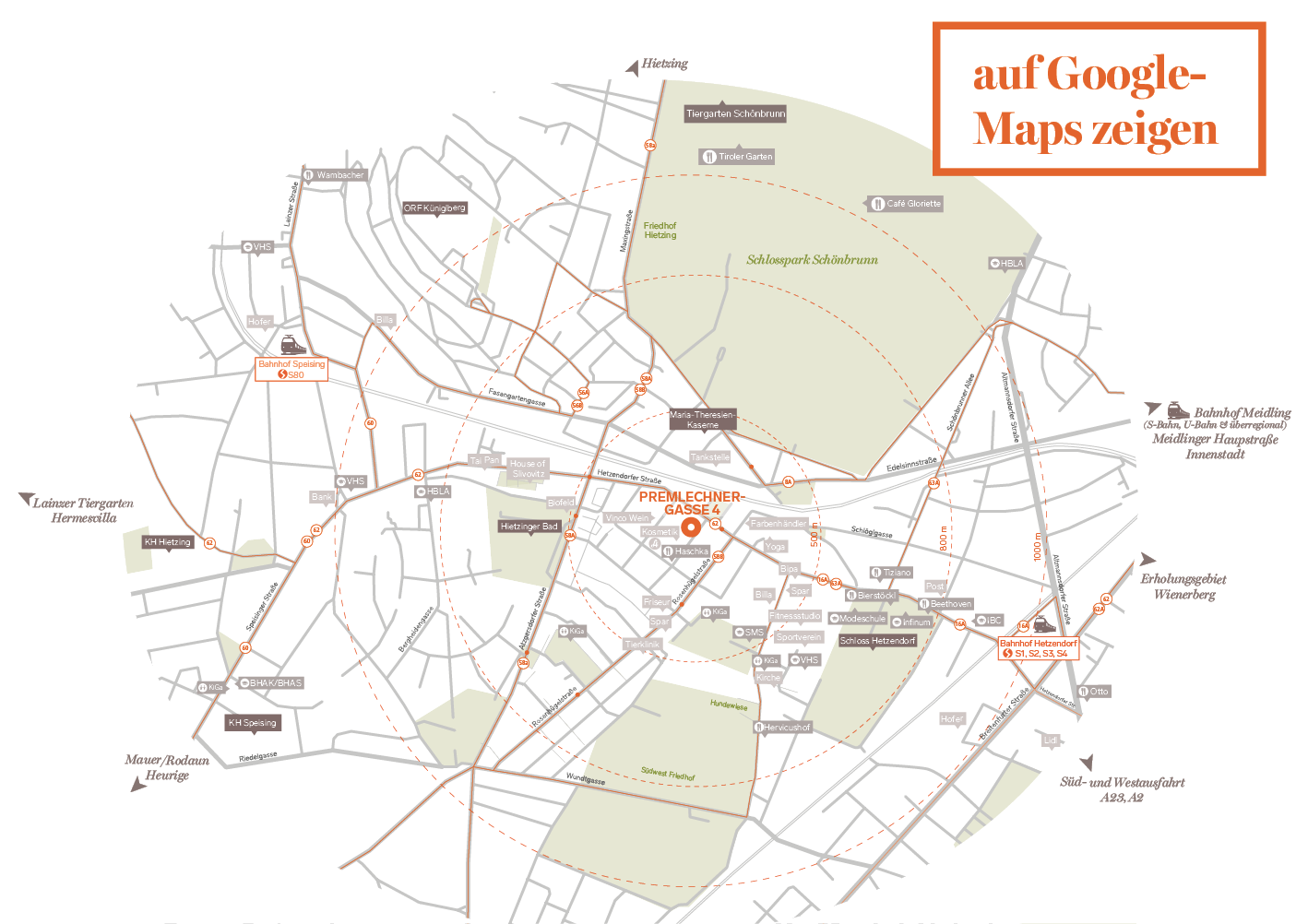 Your request
Thank you for your interest in our project "The Suburban Beauty".
Please provide your information to contact us: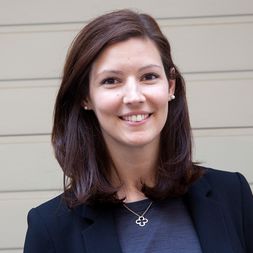 Kerstin Schönsgibl
AVORIS