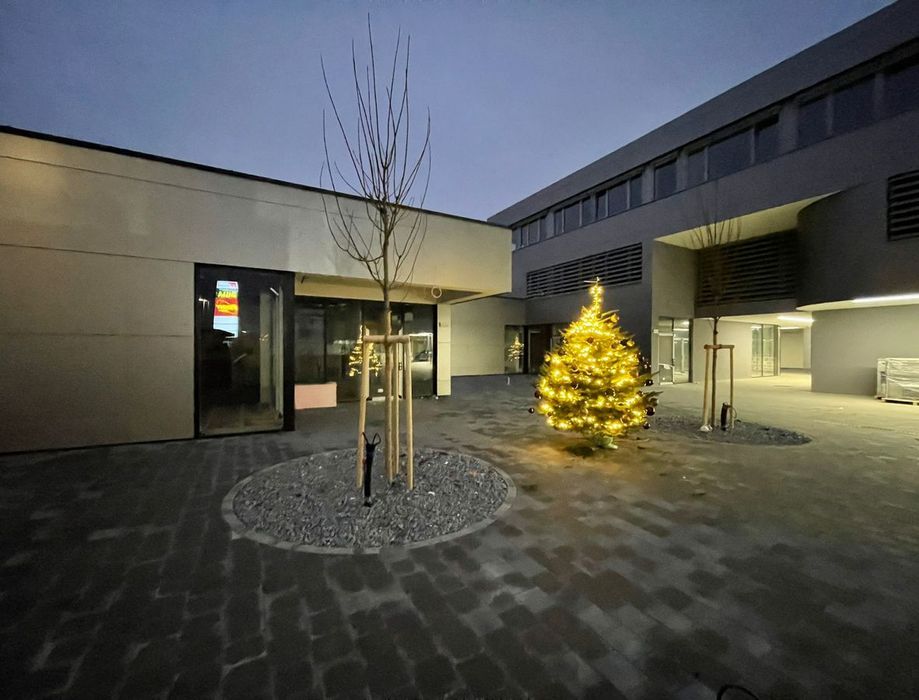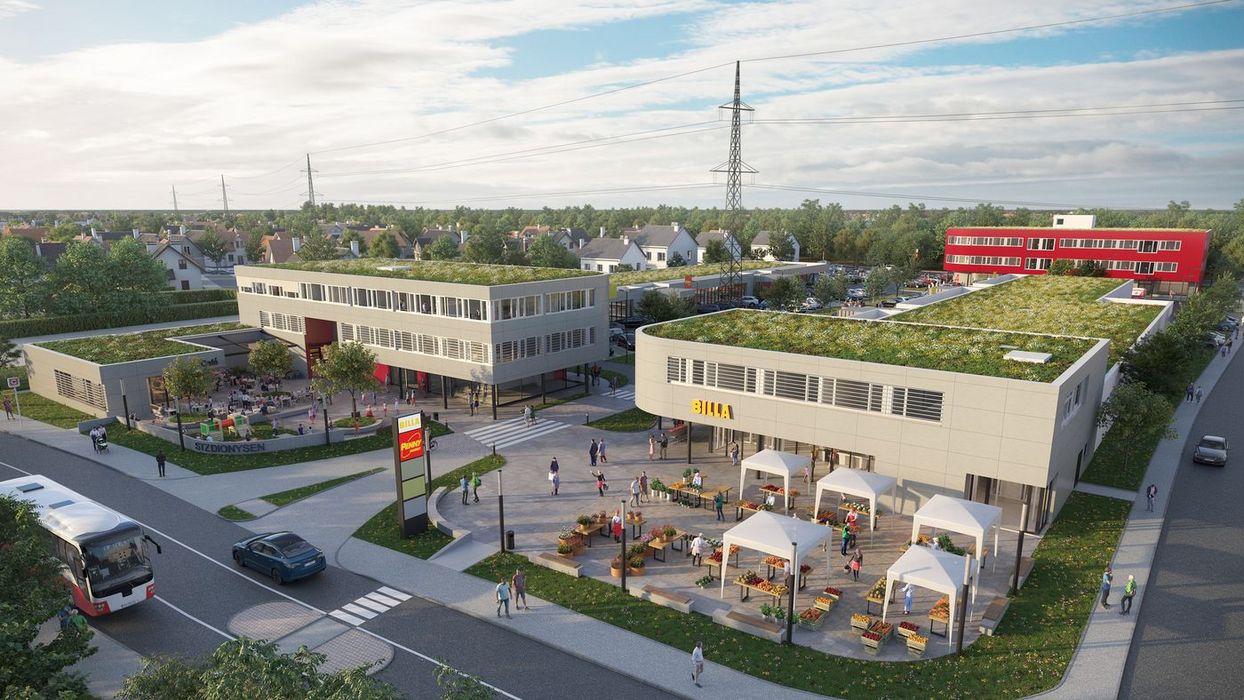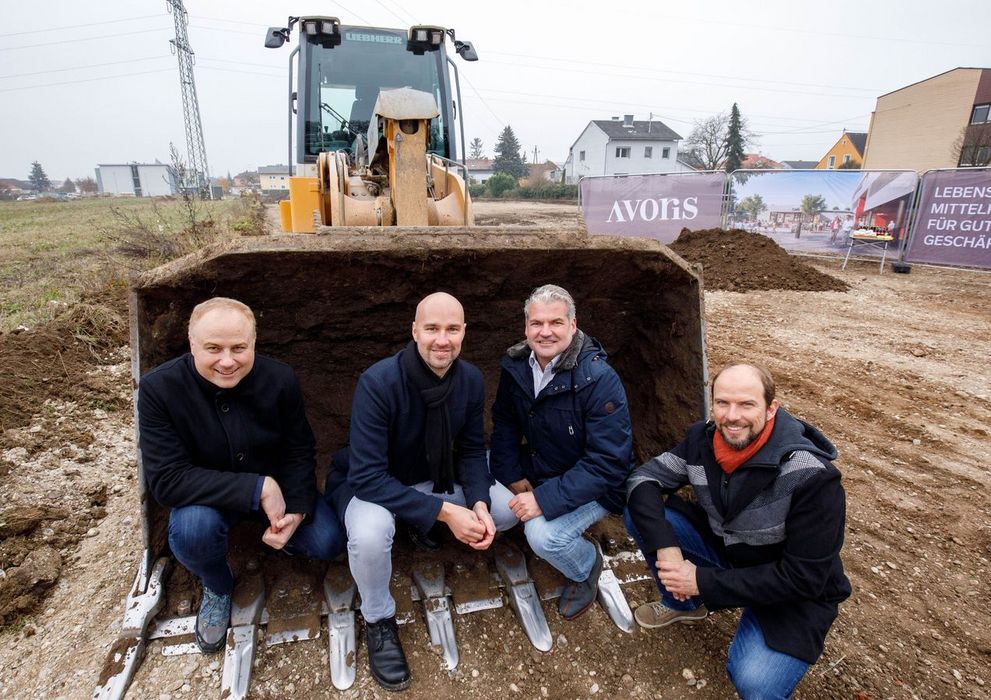 It's been 13 months since ground was broken — and now the Traun neighborhood center is ALMOST FINISHED.
The two main buildings of the STZ Weidfeld are almost complete — except for the individual installations of the future tenants — as are the two east and west wings where the shops are located.

Construction sites 1, 2, and 3 are almost done. Though construction logistics have delayed completion of the medical center on site 4, the shell was finished right before Christmas. By the time the first shops open their doors in February, this building's façade will be gleaming and construction on the interior will be in full swing. We plan to hand over the completed medical center in September 2022, and talks with doctors, physiotherapists, medical supply stores, and a pharmacy are well underway.
On our
construction site ...
34,000 m³ of earth were moved, 2,100 running meters of sewer piping laid, 2,100 m³ of concrete poured, 180 tons of structural steel put in place, 315 prefabricated stairs, girders, and supports installed, and 4,000 m² of hollow-core flooring slabs and 5,600 m² of façade materials (aluminum, plaster, and windows) used. And we planted 50 trees! Ten km of interior conduits and 2,400 m of exterior conduits have been installed, along with 23 km of electrical cables. The total connected load of the neighborhood and medical center is 900 kW.
On busy days, up to 150 workers were on the construction site at the same time—most of them employed by local companies. It's been a marathon so far, and we're looking forward to the last few meters.
What still needs to be done?
Signage, guidance systems, rooftop noise barriers, seating areas, lighting, rubbish bins, e-charging stations, bicycle parking spaces, and parking garage markings.
Individual interiors of unrented areas, which takes about 12 weeks from the time of signing
Going live with the Weidfeld website
The official opening is on February 18th!
And yes, of course there will be a red ribbon to cut, and we will also unveil a work of art. Due to Covid, we will be celebrating the occasion in a very small group for now. But we definitely don't want to miss out on a big joyful opening ceremony—so we plan to make up for it in May!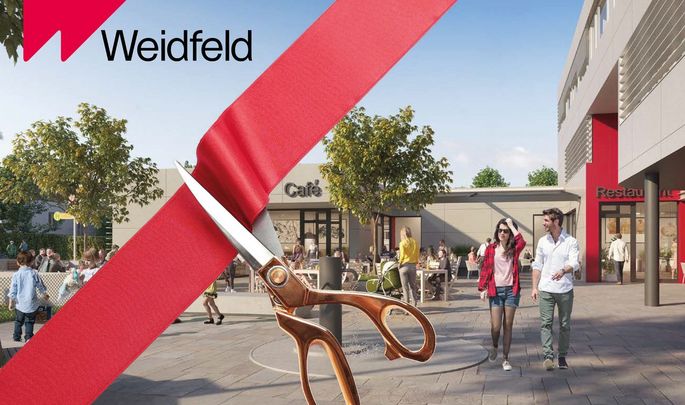 New business openings in Weidfeld:
February 1: Schürer Florist
February 17: Billa and Penny
March 1: Stadt-Café Traun
Mid-March: Haircutters Salon
Late March: Drivezone driving school
April 1: Basta! – cucina italiana
May: Sauter Measurement and Regulation Technology
Autumn: Medical Center
Our neighborhood center provides a total of 5,680 m² of space for shopping, work, leisure, and enjoyment. 3,845 m² of this have already been rented out before the opening, and there are very interested parties for another 430 m². A few units are still available, including 72 m² for a hot dog snack bar, a 646 m² shop space, and 240 m² of office space. We look forward to seeing who will jump on board.
At the health care center, where we are only the builders but not the operators, about 3,000 m² are dedicated to health care.
Fotos & Renderings: AVORIS; Hermann Wakolbinger (Spatenstich), Tudi Dinu (Christbaum vorm STZ)